Commended as One of the Best Companies for Work-life Balance
FORCS was awarded the presidential award at the Family-Friendly Company Certification Ceremony for work-life balance in workplace organized by the Ministry of Gender Equality and Family in South Korea.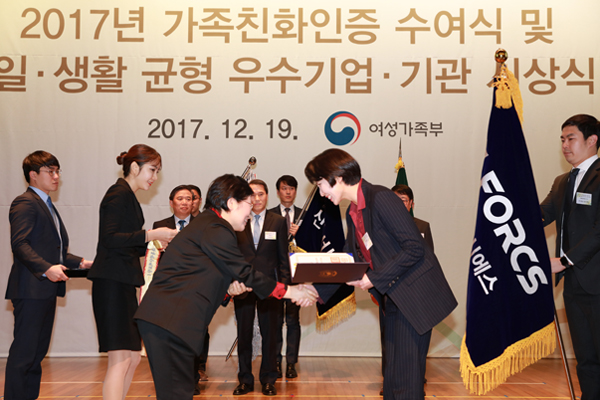 The reward system takes into considerations if a company/organization adopts a working culture that helps employees to strike work-life balance and if gender equality exists in the workplace.
One of the highlights was the commendation of fostering a better working environment for women. In FORCS, initiatives such as extending maternity leave and parental leave are in place to help female employees cope better after pregnancy. Females are also given an equal level of opportunities in climbing the corporate ladder, holding leadership and management roles in our company.
Currently, employees with kids may apply for shorter working hours if they need to leave earlier to fetch their kids. Pregnant employees are also granted a two-hour early release for them to get back home earlier to get ample rest. In addition, they may also apply for time-off for prenatal visits.
Official of FORCS said, "We are committed in ensuring all employees strike the right balance between work and family or leisure activities. To further strengthen this cohesive working environment, consistent efforts have been made in building a positive corporate culture taking care of employees work and personal welfare."
Recognised as the leading technology company, we have attained the worldwide standard of having 33% of female employees in our workplace with 40% of them are holding managerial positions. On an average, the length of service of female employees is more than 12 years.
CEO of FORCS, Mrs Park Mi Kyung said, "I feel honored for this presidential award, since our establishment, we have dedicated time and resources in creating a happy working environment for all. The Human Resources department goes the extra mile in establishing a work-life balance environment, prioritizing women's welfare during and after pregnancy, and ensuring gender equality in the workplace. We aim to achieve a high happiness index for our employees, boosting their morale and productivity."
All these years, FORCS has been recognized as a family-friendly oriented company with exceptional welfare and benefits. We have been providing free health check-ups for employees and their family members. Appreciation dinners are held twice each year to show our appreciation to employees and their family members. Policies on employees' welfare are regularly improvised to ensure their well-being are taken care of all year round.