Dynamic Forms

XML-Based Dynamic Form
Consolidated Form
Dynamic Forms Merging
Dynamic Behavior of Inputs

Innovative Multi-Function Viewer

Supports All Around Client OS and Devices
Multimedia Rich Components
Form Annotations
Pre-fill & Extract Data
Field Validation

Reusable Form with Master Sections

Company Standard Forms with Master Sections

Powerful Designer

Enterprise Form Designer for Professionals
Easy Migration of Your Forms
Codeless Data Mapping
Multilingual Forms

Data Integration & Form Management

Integration with Legacy Systems and Data Service
Central Form Repository
Document Generation from Back-End
Web Management Console

Advanced Options
XML-Based Dynamic Form
Fast response with XML-based technology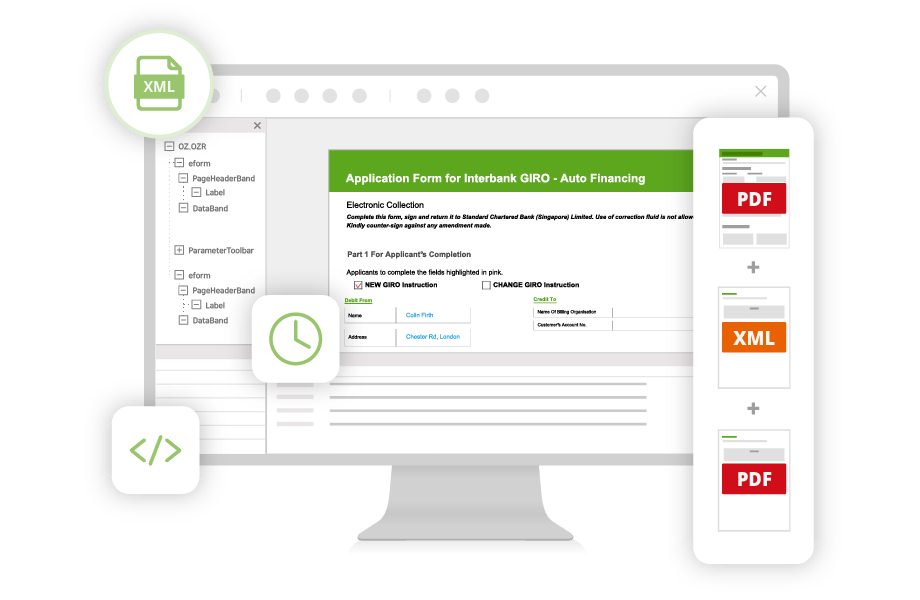 Consolidated Form
Eliminate more than 30 percent of your form templates used in static formssoftware—improves productivity and reduces maintenance costs for similar forms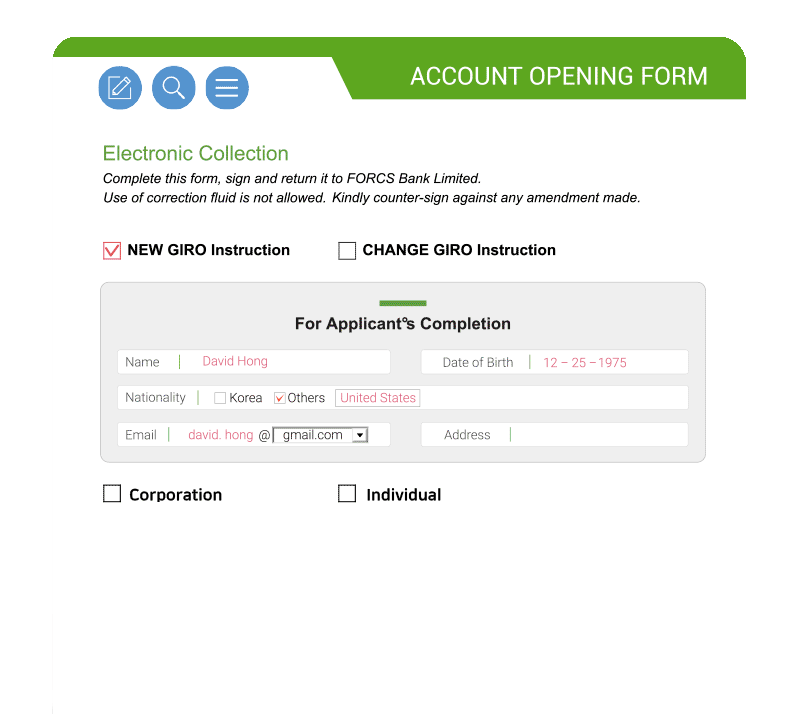 Dynamic Forms Merging
Displays multiple forms to be merged in the viewer;depending on the combination logic, the forms can be dynamically combined to display and fill in at once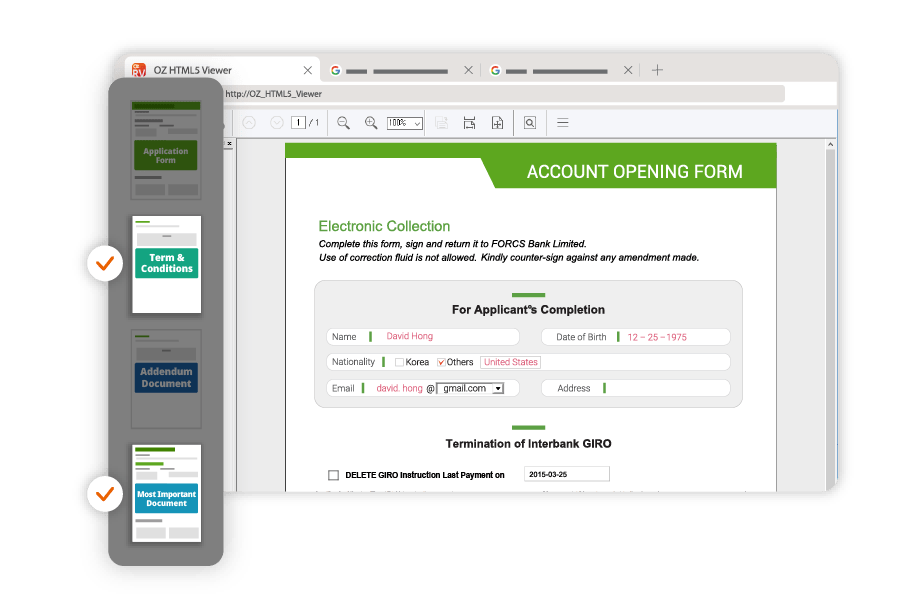 Dynamic Behavior of Inputs
Show or hide fields in real-time based on customers' actions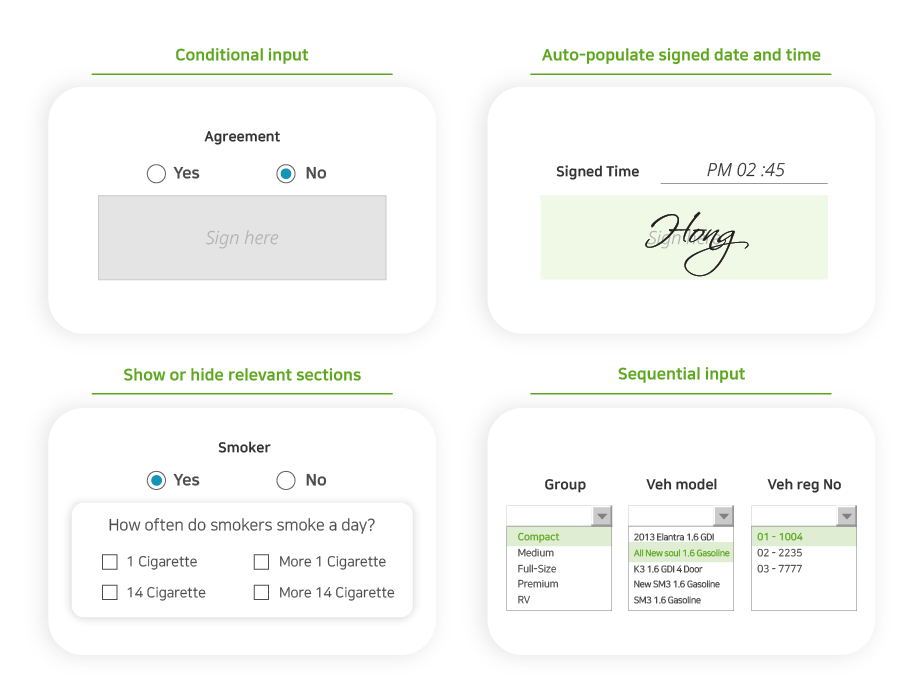 Supports All Around Client OS and Devices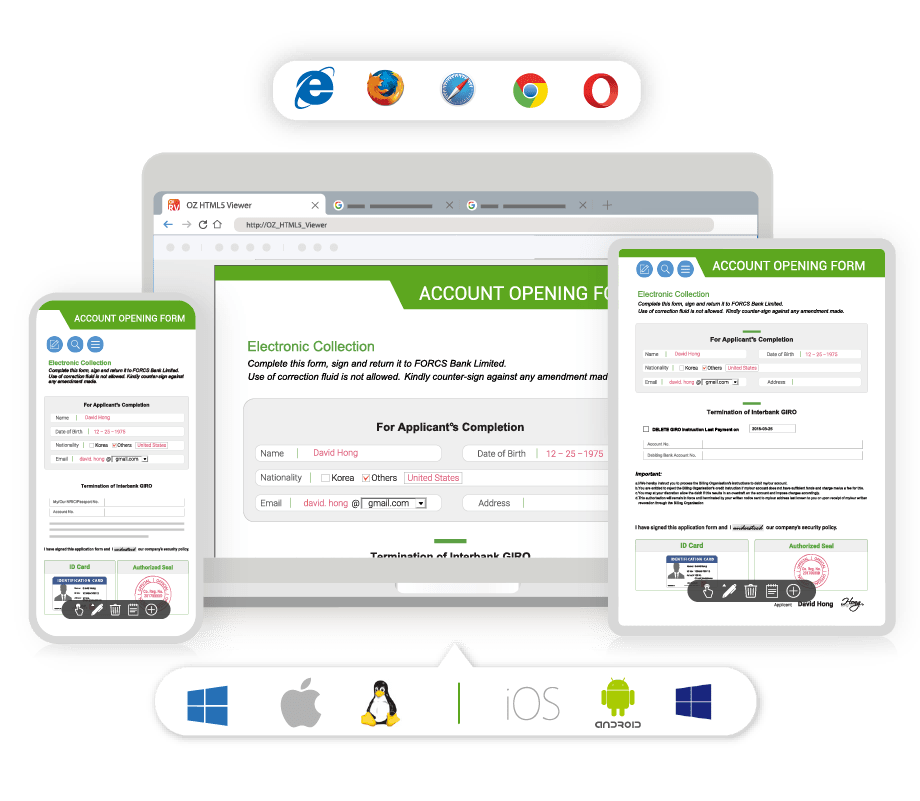 HTML5 Viewer supports any modern browsers on desktop & mobile
High performance mobile app viewer (iOS, Android, Windows UWP)

Desktop Viewer for Windows

- Supports all browsers on Windows with a dedicated Viewer—ActiveX and launcher
- Standalone EXE viewer is also available
Multimedia Rich Components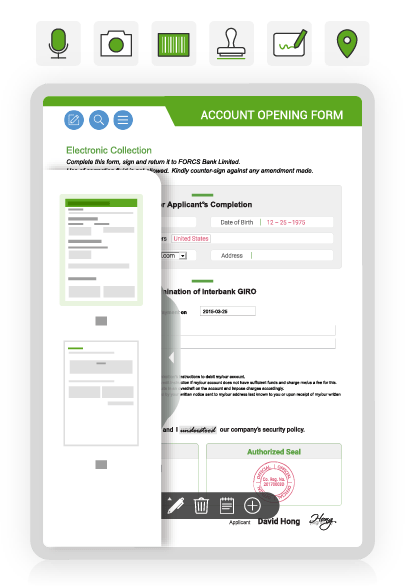 eSignature
Image Capture With Camera
ID Scan
Seal Scan
QR & NFC Scan
Dialogue Flow Inputs
Attachments
Voice Recorder
Video Player
Pre-fill & Extract Data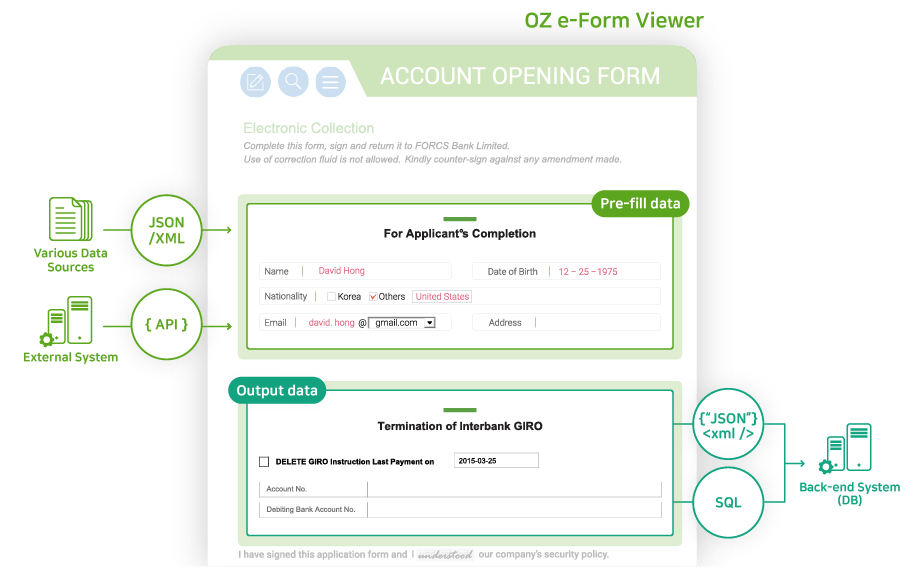 Field Validation
Checking form inputs for required fields also reduces the error rate of correct formatting in real-time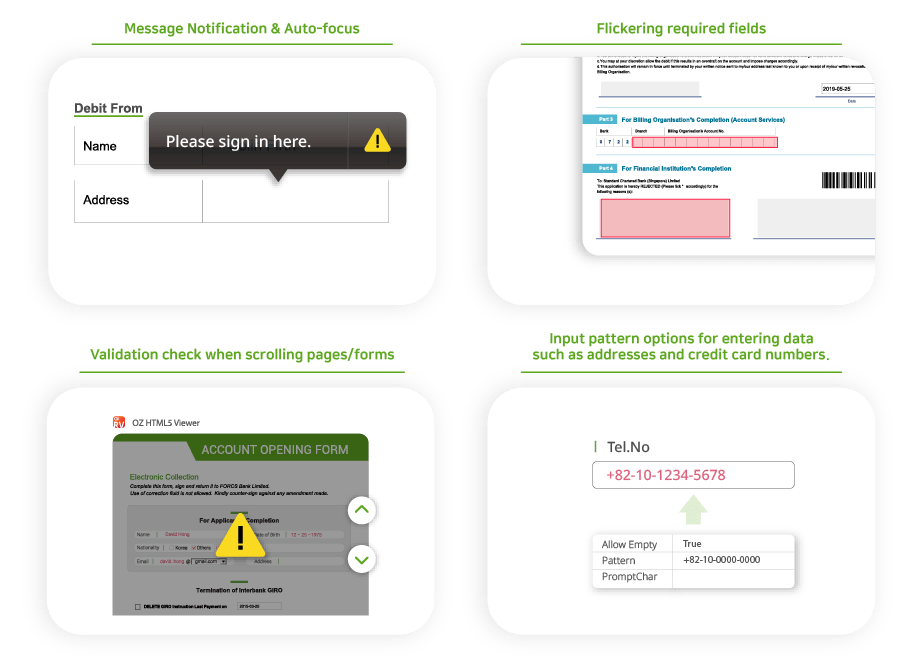 Company Standard Forms with Master Sections
Create the content displayed in many forms as a "Master Section."Practitioners can apply a single update in the "Master Section" to all related forms.Suitable for terms and conditions, declarations, company logos, slogans, etc.
Enterprise Form Designer for Professionals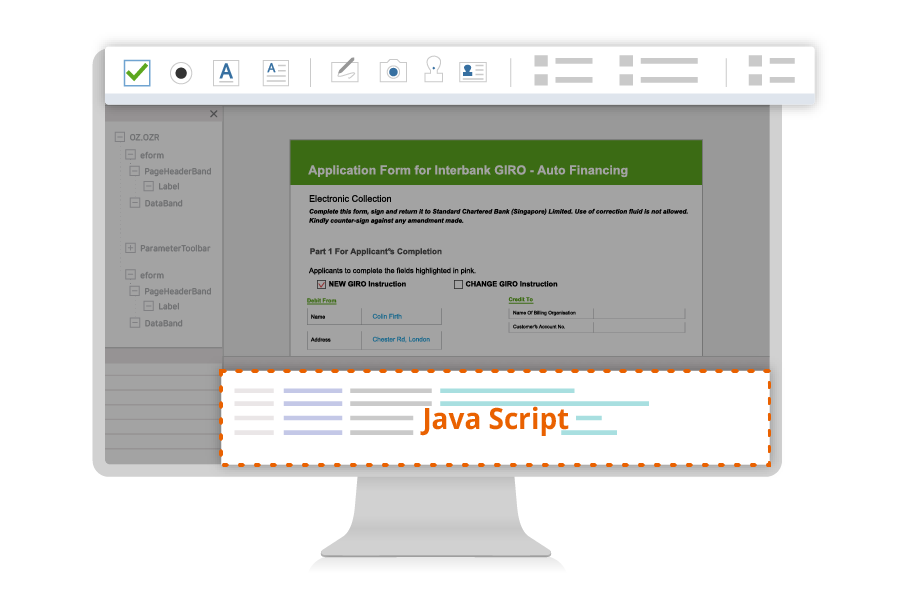 Pixel-perfect design capabilities for precision forms
Various input components

JavaScript APIs to control all properties of inputs

e.g., Implement validation of fields, permissions, and conditional inputs
Multiple forms on a single template
Easy Migration of Your Forms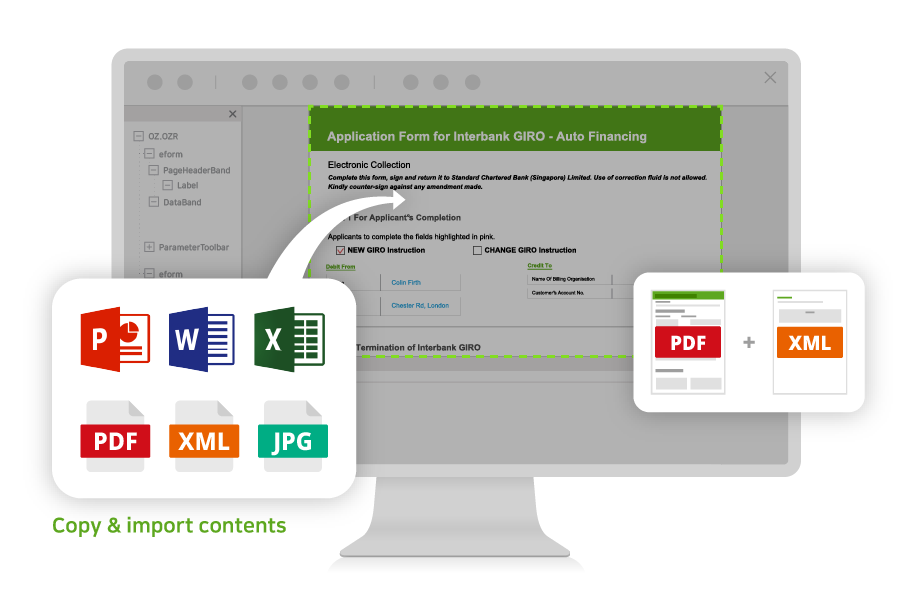 Reusing soft copies
Import PDF/images and add inputs
Copy and paste existing MS Office documents
Combine dynamic XML forms and static PDF forms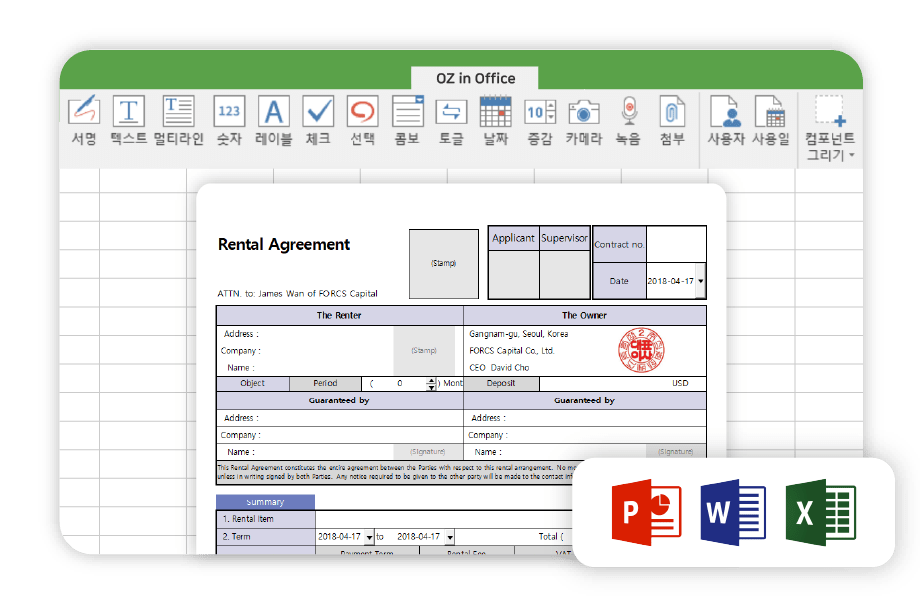 OZ in Office - MS Office plugin designer
Create documents in MS Office (Excel, Word, PowerPoint)
Plug-in for MS Office applications
Support of Excel expressions
Codeless Data Mapping
Easy integration of data sources by drag & drop without coding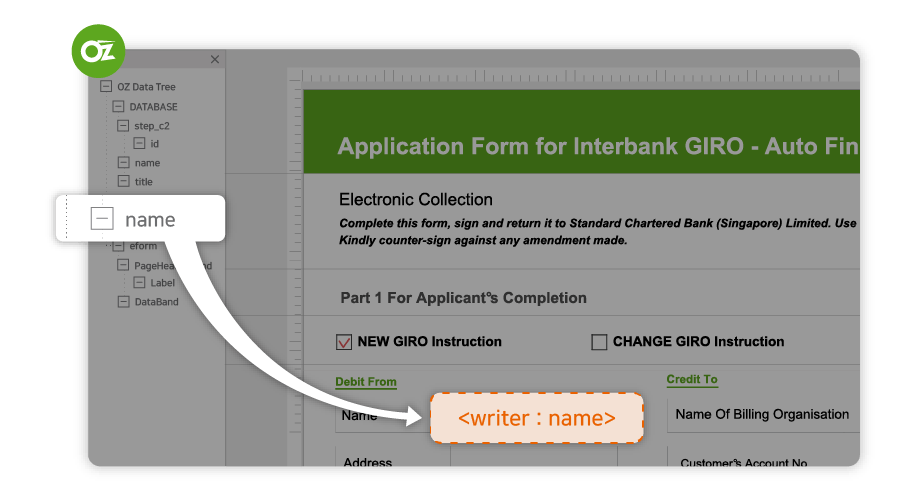 Multilingual Forms
Language resource management: a single form can be serviced in different languages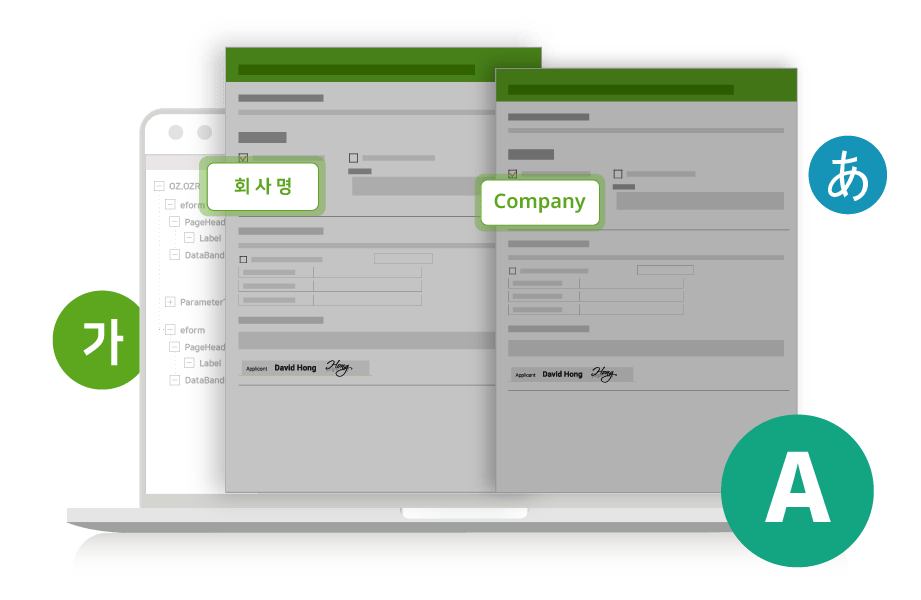 Integration with Legacy Systems and Data Service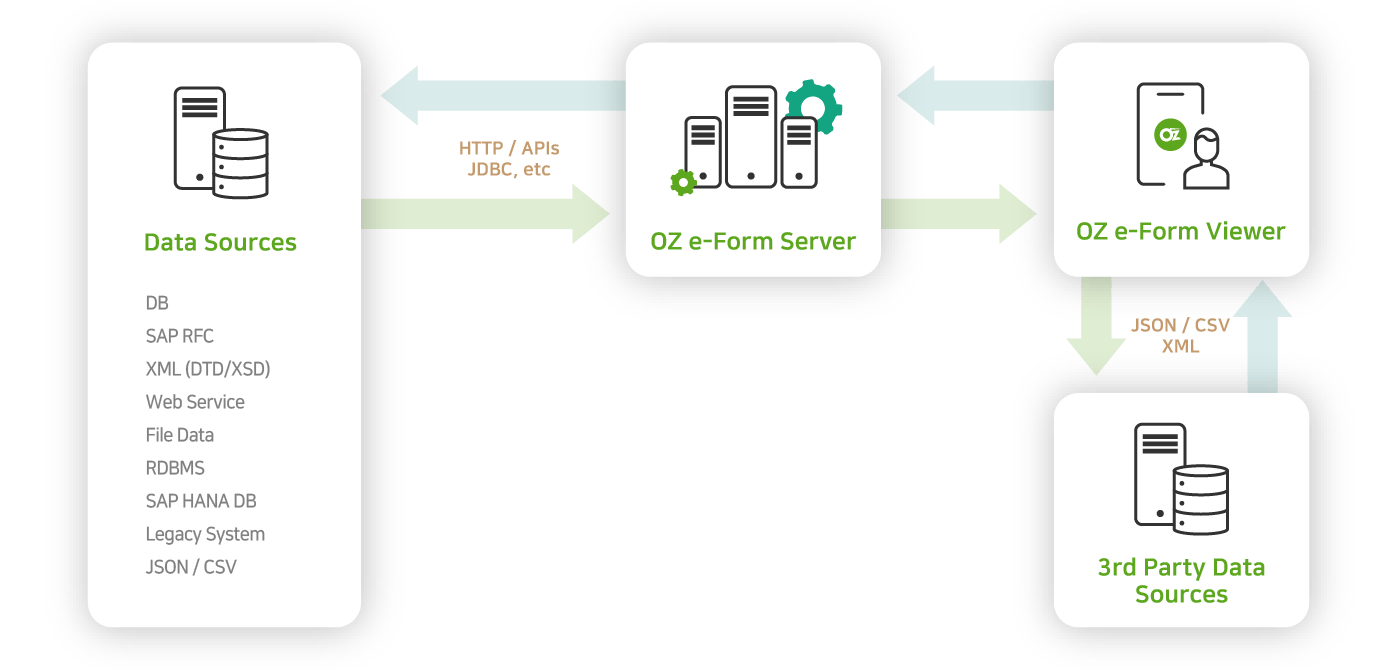 Central Form Repository
Unified digital forms repository for the enterprise to enable multiple departments to use selected standard forms.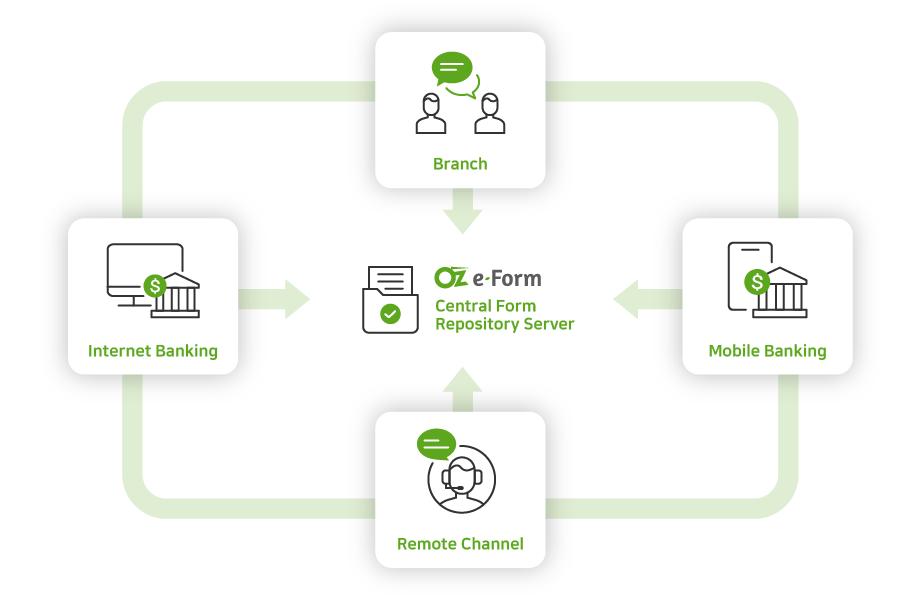 Document Generation from Back-End
Exports various formats (HTML, PDF, Word, Excel, text, image, etc.) in batches or as a scheduled task
Supports post-processing documents like email, FAX, and SMS via APIs

Web Management Console
OZ Server Console handles the resources and configuration of all form-related services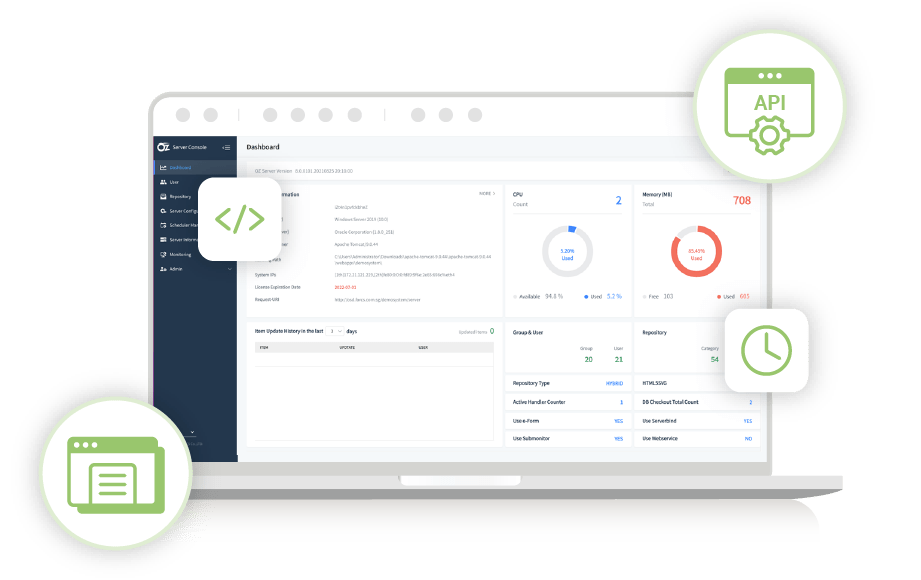 Dashboard
Form repository management
Audit trail, history
Server configuration
Monitoring resources, logs
Schedule exporting tasks
Accounts, permissions
Form Sync
Real-time synchronization of "Form, Data, Action" between multiple devices
Learn more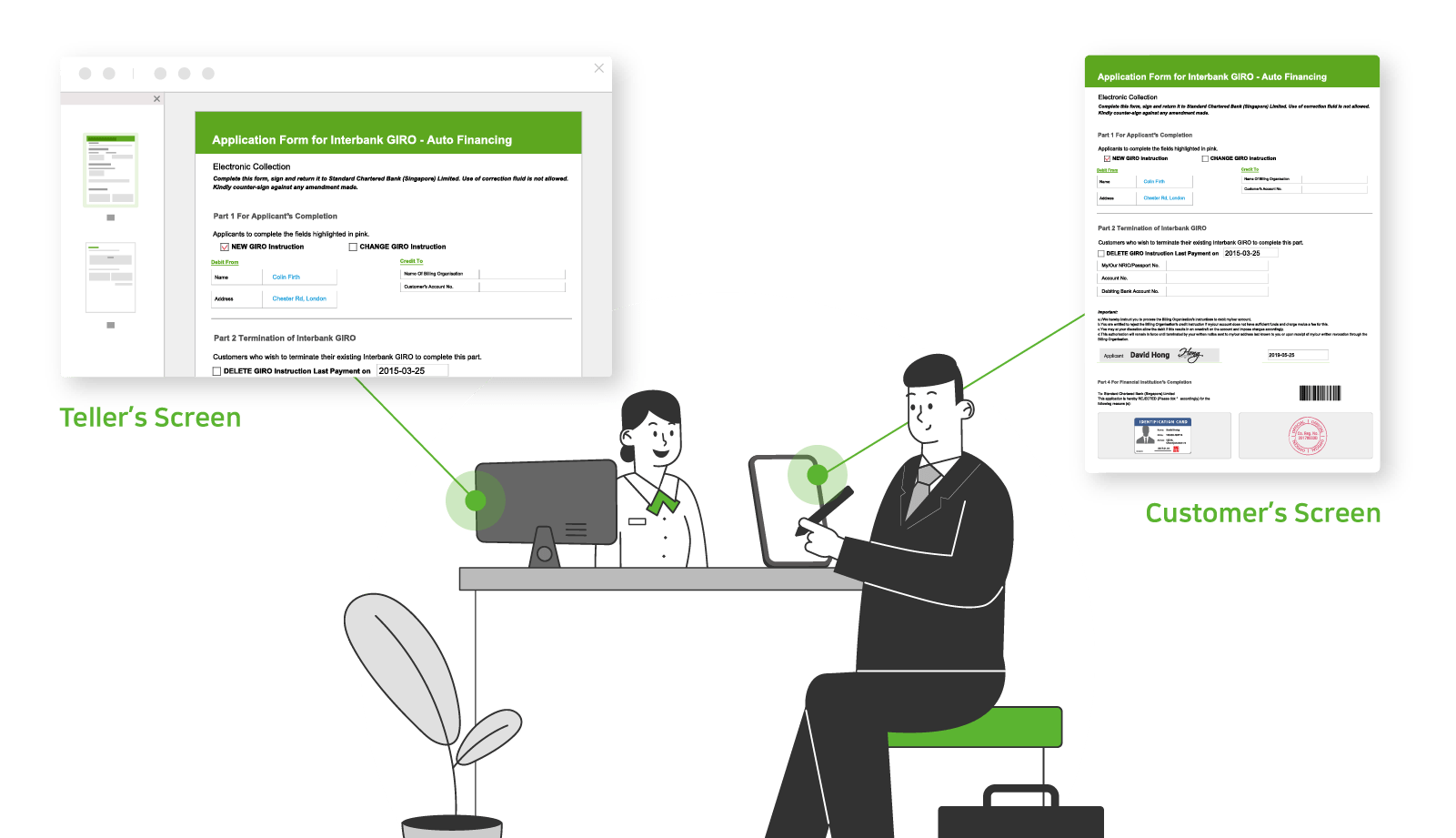 Dialogue Flow
Conversational input for interactive form filling with question-answer dialogues
Learn more

Handwriting
Recognizes handwriting input and converts it to text for all languages