OZ e-Form Product Composition & Process
"To learn more about the OZ e-Form solution and its features, please download our Product Description by clicking the link below."
Dynamic Forms

Dynamic Fillable Form
Consolidated Form
Form Merging
XML-Based Form

Master Sections

Multi-Function Viewer

Multimedia Rich Components
Pre-Populate & Extract Data
Field Validation
Supports All Around Client OS and Devices

Powerful Designer

Enterprise Form Designer for Professionals
Easy Form Conversion
Codeless Data Mapping
Multilingual Form

Data Integration

Integration with the legacy system
Document Processing

Form Management
Dynamic Fillable Form
Create sets of fields and sections that can be displayed or hidden depending on the input value in another field the user selects. For example, if a user selects a "Currently employed" button other than "Unemployed," then the fields that appear next will be for the "Currently employed." This feature provides a highly customizable form that adapts to the customer's needs, displaying only the relevant sections and fields per the user's selection. This not only improves the user experience but also helps to ensure accurate data collection.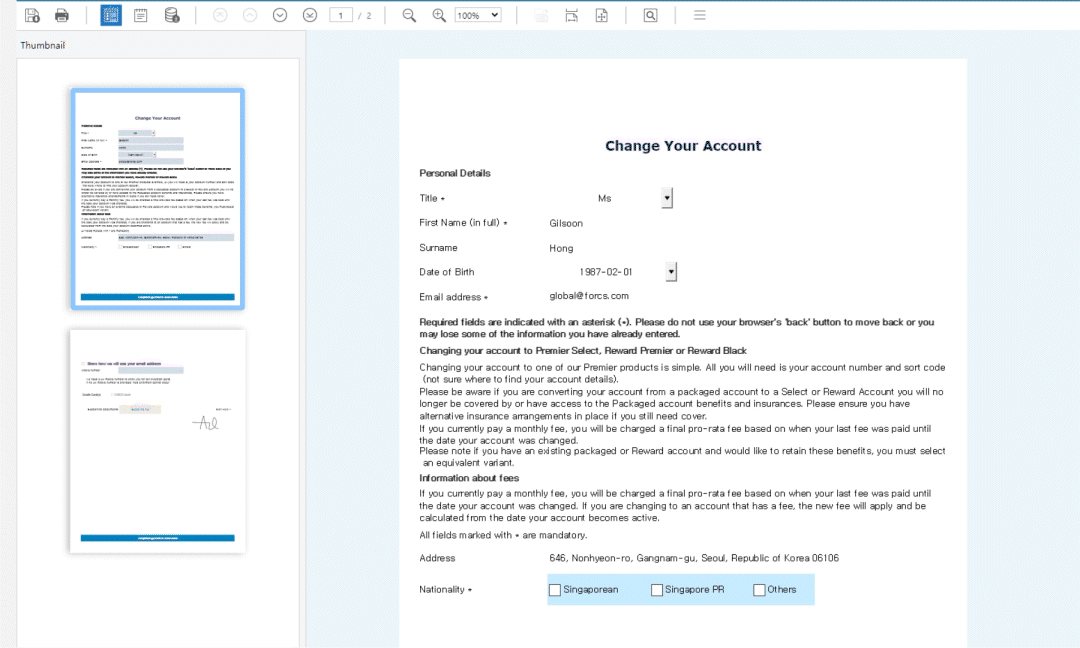 Consolidated Form
The Dynamic feature can consolidate multiple forms into one single form template by common fields or sections from multiple forms with similar structures and content, thus simplifying form management and reducing the number of forms that need to be created and maintained.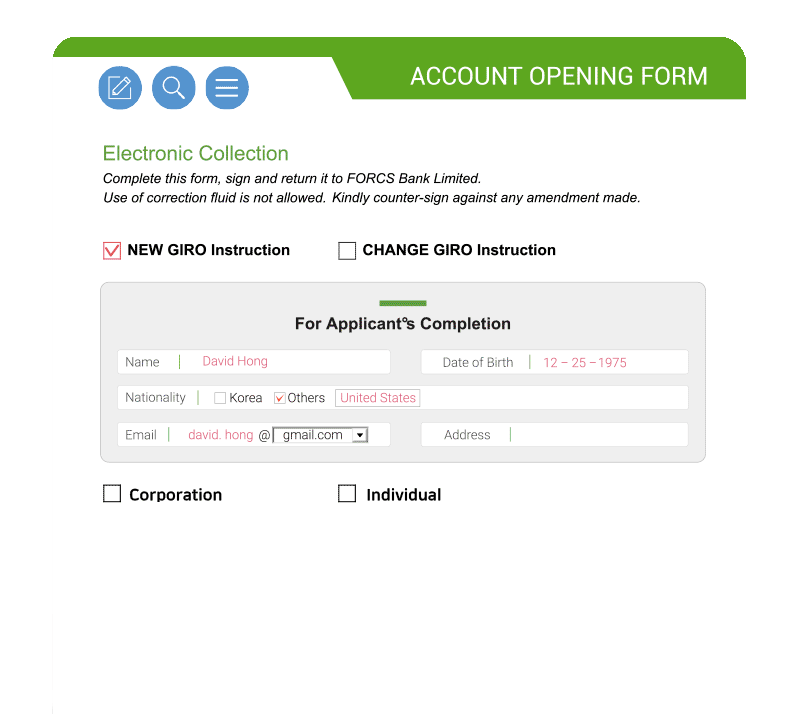 Form Merging
Display multiple forms based on user selection or pre-defined combination rules, streamlining the form-filling process and reducing errors. This feature enables users to fill out combined forms in a single submission, saving time and effort.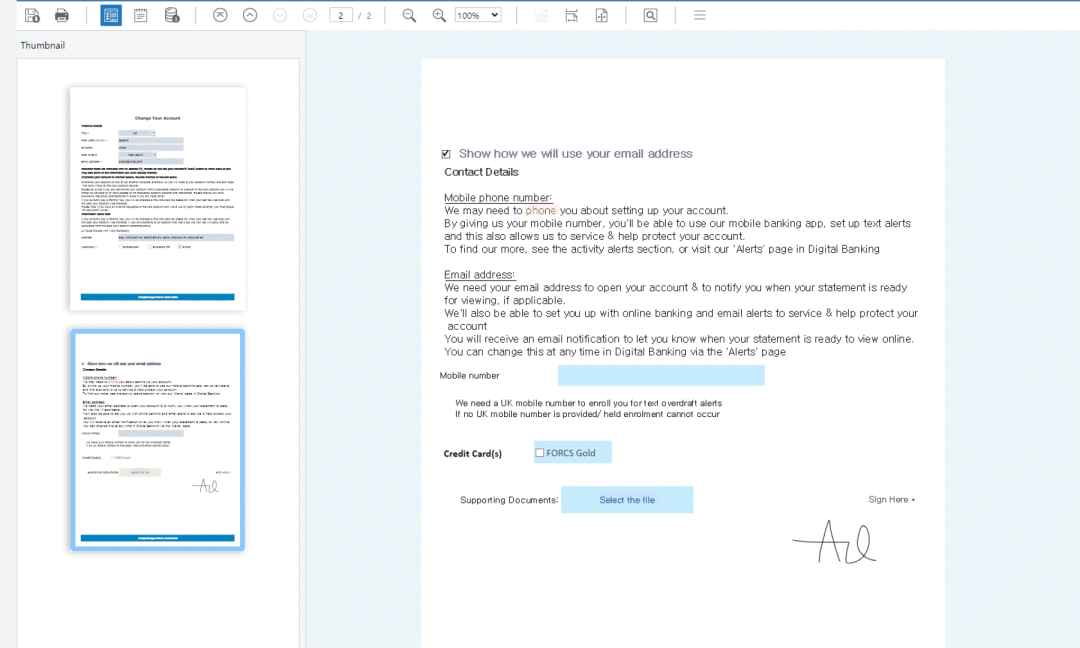 XML-Based Form
You can combine dynamic XML and PDF forms (e.g., T&C and Declaration PDF) in one document. The XML-based OZ e-Form provides a high processing speed, facilitating fast data transfer and response by server load balancing. Thus it offers stable service even in a large-scale user environment and in processing high-volume document sets.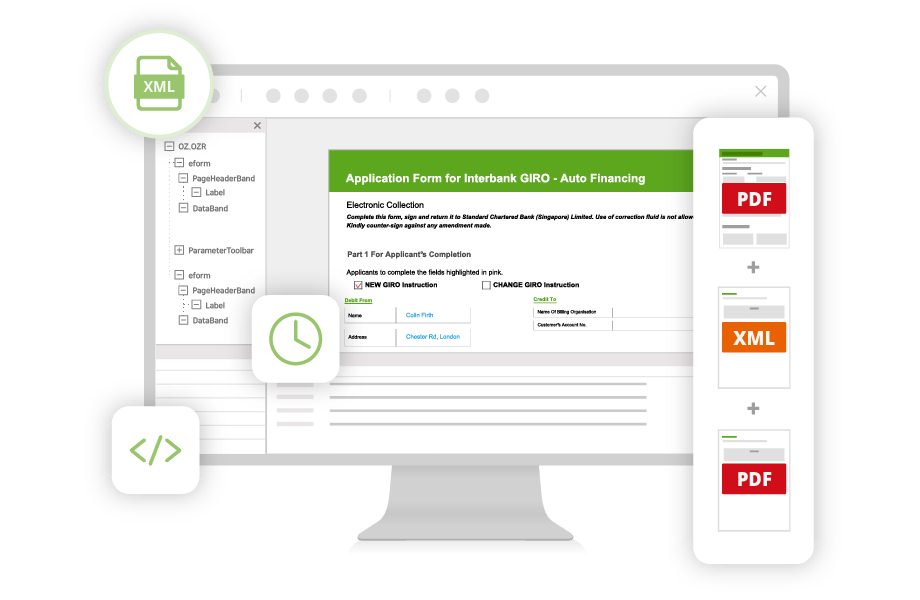 Reusable Forms
Create master sections that can be reused across multiple forms. This feature is useful for commonly used content, such as terms and conditions, declarations, company logos, and slogans. By creating a master section, you can apply a single update to all related forms, saving time and ensuring consistency. In addition, this feature streamlines the form-building process and makes maintaining accurate and up-to-date information easier across all forms.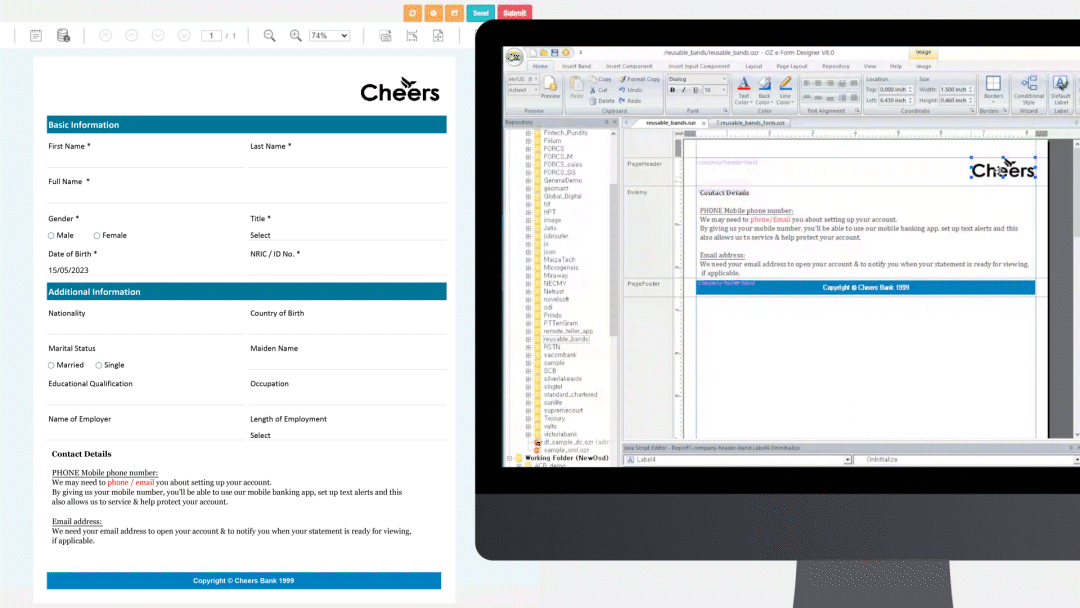 Multimedia Rich Components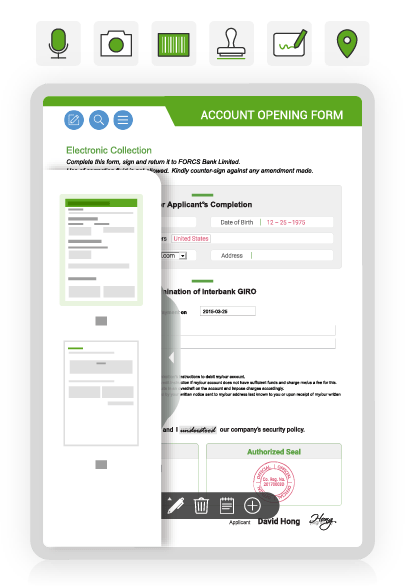 eSignature
Image Capture With Camera
ID Scan
Seal Scan
QR & NFC Scan
Dialogue Flow Inputs
Attachments
Voice Recorder
Video Player
Pre-Populate & Extract Data
Pre-populating and extracting data from forms allows for efficient analysis and various uses. OZ e-Form integrates with various data services, offering APIs and libraries to support back-end interfaces and allow for the integration of 3rd party data using standard data structures.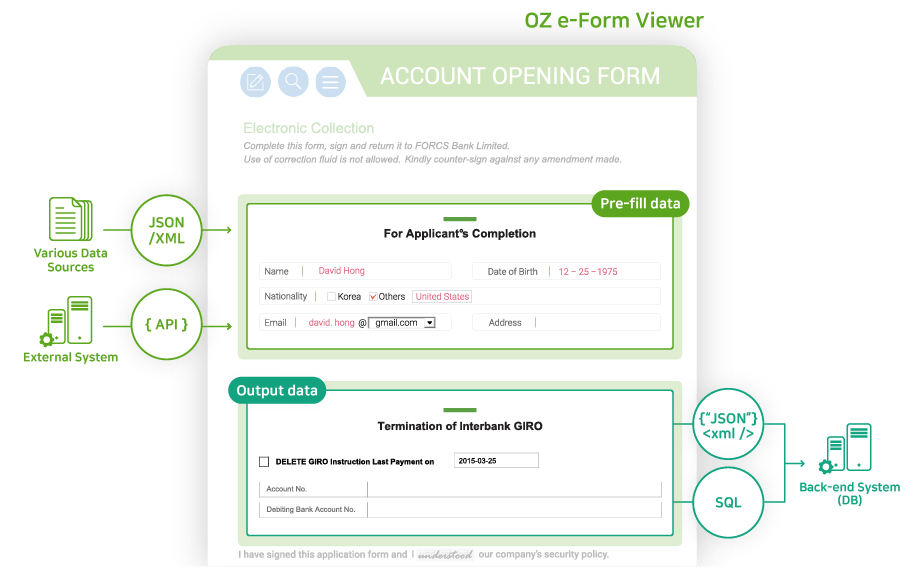 Field Validation
The field validation feature automatically checks user input to ensure it meets specific requirements or constraints using various functions. It helps ensure data accuracy and completeness, prevent errors, and provide feedback to users in case of any issues with their input, making it a valuable feature for forms and data collection processes.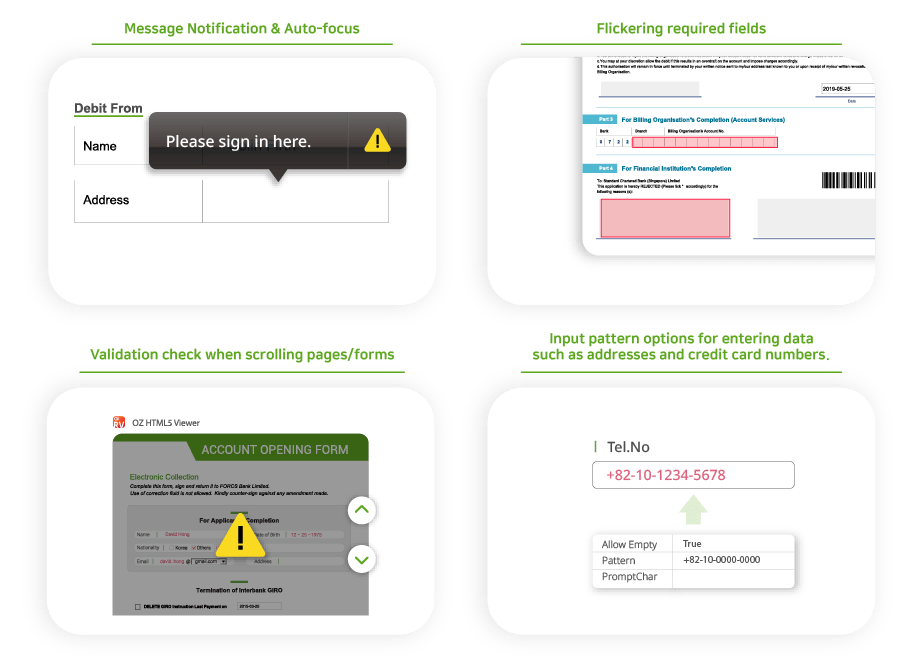 Supports All Around Client OS and Devices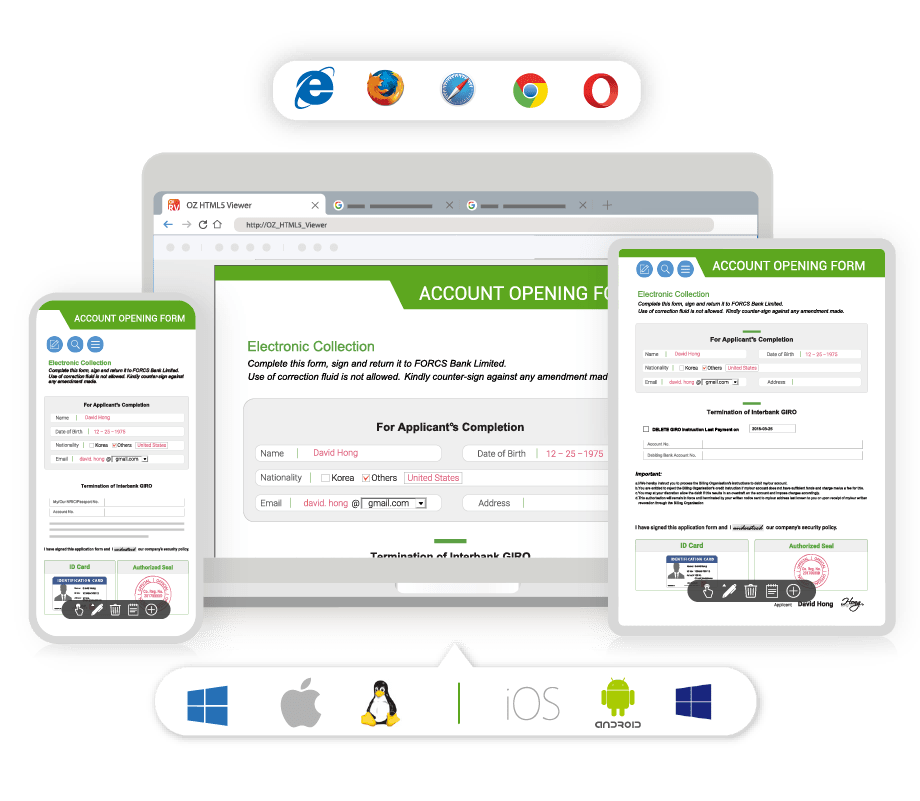 HTML5 Viewer supports any modern browsers on desktop & mobile
High performance mobile app viewer (iOS, Android, Windows UWP)

Desktop Viewer for Windows

- Supports all browsers on Windows with a dedicated Viewer—ActiveX and launcher
- Standalone EXE viewer is also available
Enterprise Form Designer for Professionals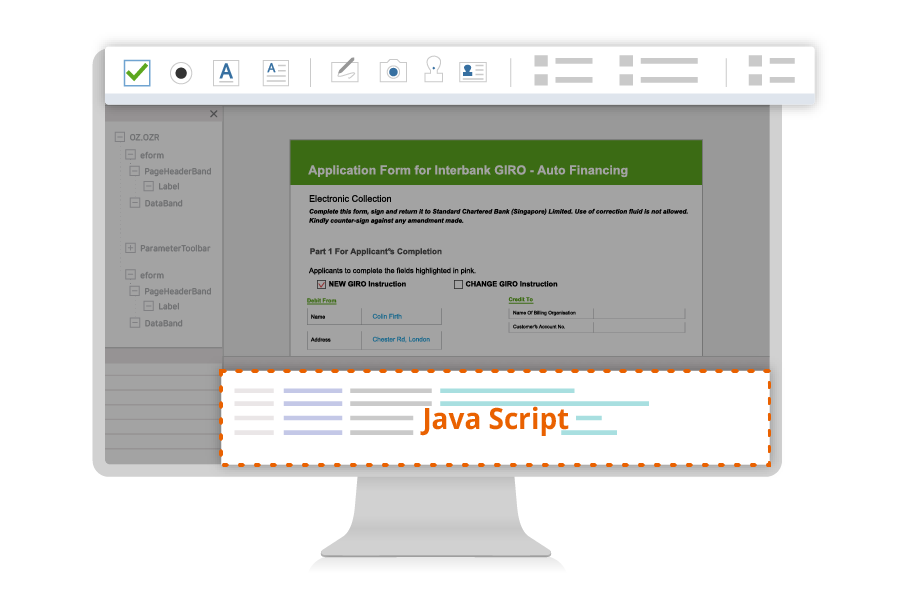 Pixel-perfect design capabilities for precision forms
Various input components

JavaScript APIs to control all properties of inputs

e.g., Implement validation of fields, permissions, and conditional inputs
Multiple forms on a single template
Easy Form Conversion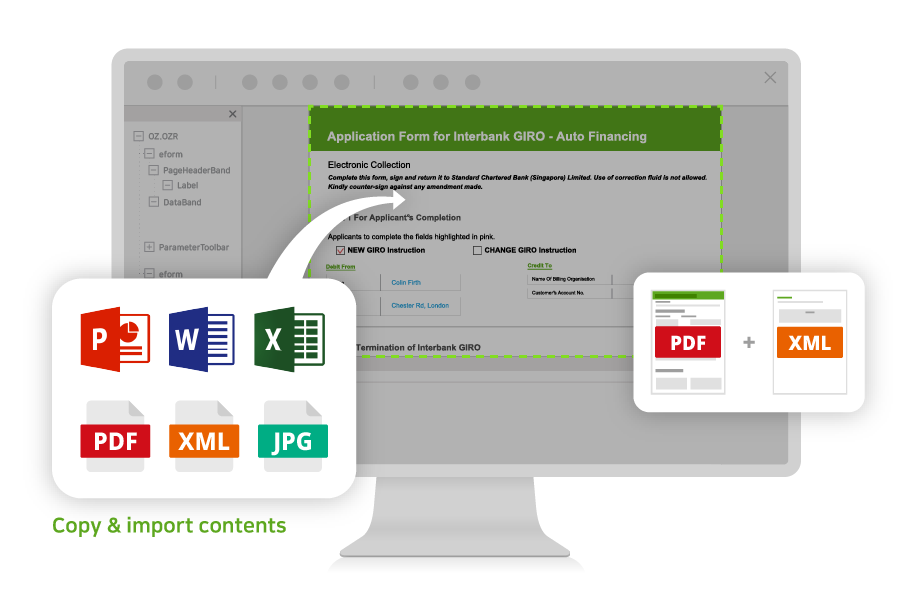 Reusing soft copies
Import PDF/images and add inputs
Copy and paste existing MS Office documents
Combine dynamic XML forms and static PDF forms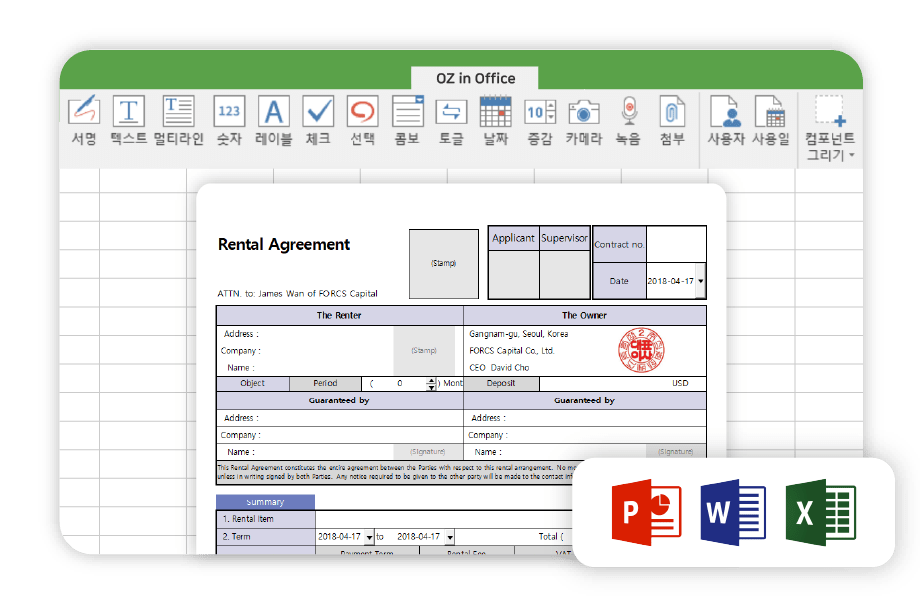 OZ in Office - MS Office plugin designer
Create eForms within MS Office (Excel, Word, PowerPoint)
Plug-in for MS Office applications
Support various Excel functions
Codeless Data Mapping
The drag-and-drop integration feature enables users to integrate data sources without any coding seamlessly. This feature allows users to easily integrate data from various sources, providing a user-friendly and streamlined solution for data integration tasks.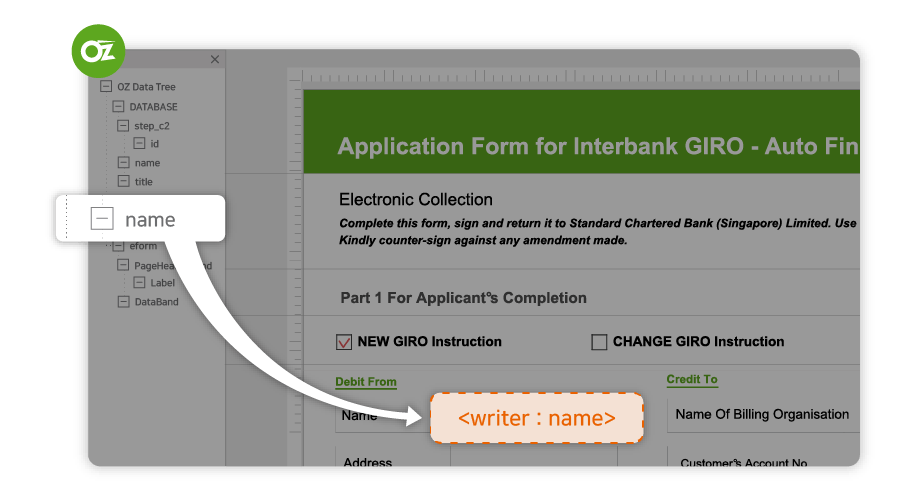 Multilingual Form
The multilingual form feature enables language resource management, creating a single form that supports multiple languages instead of creating a separate form for each language. In addition, the form displays in the preferred language selected by the user or based on the system's default language setting for improved personalization and accessibility.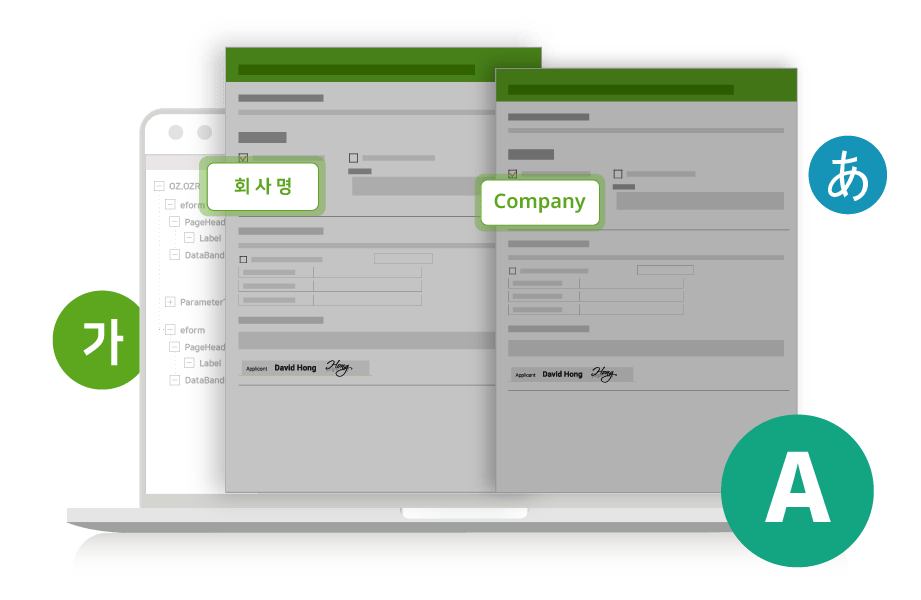 Integration with the legacy system
OZ e-Form offers seamless integration with various data services, providing ready-to-use back-end interfaces with APIs and libraries. As a result, you can effortlessly integrate most third-party data across the front-end and back-end of your application by utilizing standard data structures such as JSON, XML, CSV, and others. This makes connecting and working with various data sources easier, ensuring a smooth and hassle-free experience.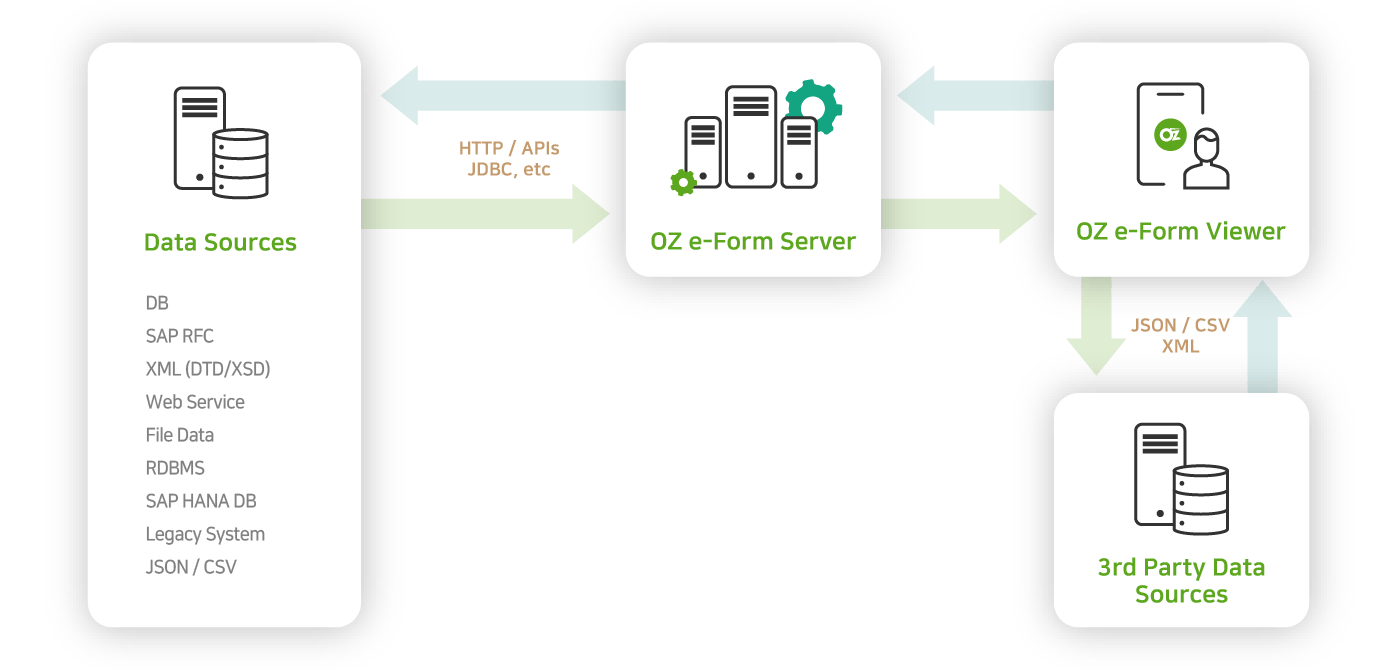 Document Processing
OZ e-Form supports batch or scheduled forms exports in various formats, including HTML, PDF, Word, Excel, text, and image. It also supports post-processing documents such as email, FAX, and SMS via OZ e-Form APIs.

Web Management Console
The OZ Server Console streamlines the management of various form-related services, such as a dashboard, audit trail, monitoring, and form repository. In addition, it provides a centralized location for users to configure resources, manage accounts and permissions, export tasks, and schedule server configuration.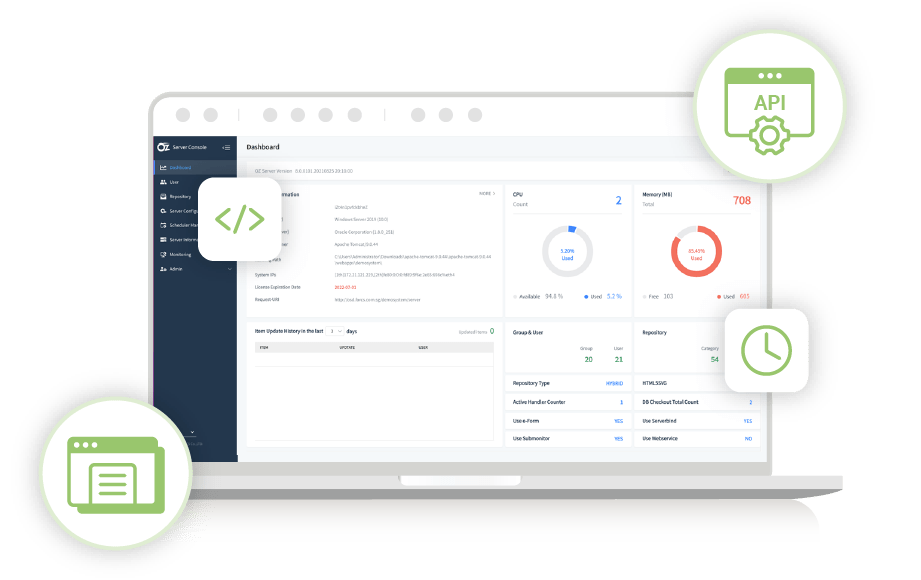 Dashboard
Form repository management
Audit trail, history
Server configuration
Monitoring resources, logs
Schedule exporting tasks
Accounts, permissions
Mobile Form Filling
We know that filling out forms on the small screen of your mobile device can be difficult. That's why FORCS has developed OZ Dialogue Flow, a feature that transforms complex forms into user-friendly, conversational screens without coding. As a result, users don't have to worry about navigating complicated screens or figuring out what to do next—the interface will tell them what they need to fill in at the right time!
Learn more

Real-Time Form Sharing between Devices
At FORCS, we understand the importance of a smooth and efficient form-filling process. That's why we offer a powerful real-time synchronization feature allowing seamless collaboration between multiple devices. Our technology lets clients and sales representatives work together on a single form, filling out data and performing actions simultaneously. Any changes to the form are instantly synced across all devices, ensuring everyone is on the same page.
Learn more