Enhance Your Business Performance with

Enterprise Reporting Tool

An enterprise-level reporting solution for mobile and web environments—supporting every step of the business reporting process.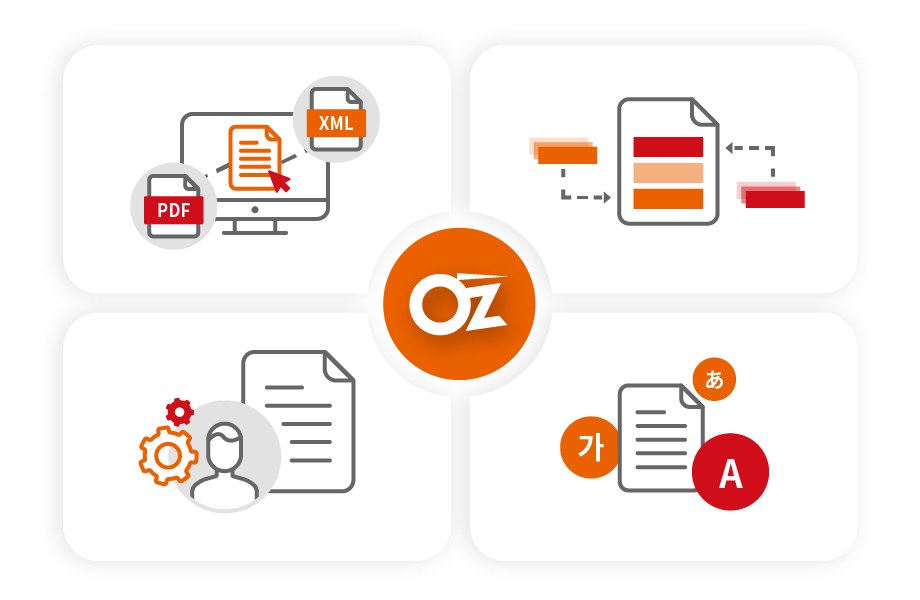 Intuitive Report Creation
Reusing existing PDF documents
Simultaneous support for existing PDF and dynamic XML in a single viewer (PDF and XML format can be mixed and used in a single document)
Rich Components & Dynamic Combination
Increase development productivity through standardization of common report areas and vertical combination
Table, crosstab, chart, gantt chart, 2D barcode (QR, DataMatrix, PDF417)
User-Defined Function
Quick report development without repetitive coding through user-defined functions
Multilingual Reports
Multilingual resource management enables preview of a single report in multiple languages
Increase productivity by managing multilingual reports with a single report file
Data Services Development
Data Source Wizard
Multiple data sources and datasets
Data definition and Report layout are created and maintained as separate files for data security
Innovative Multi-Function Viewer
HTML5 Fully Supported
HTML5 report viewer for both mobile and desktop
Maintain compatibility with existing report files and features
Provides both server and client binding options for performance
Increased performance with multi-server distributed processing
Print documents completely without installing a separate PDF viewer
Mobile Reporting Capabilities
Support iOS, Android, and Windows Mobile
Support both native and mobile app methods
Enhanced Mobile Printing (Airprint, Cloud Print)
End-User Customizable Reports
End users can insert various components into the report (e.g., notes, images, barcodes, shapes, etc.)
Change chart type, label properties, and move positions.
Single Source Cross Platform
Password protection for PDF, XLSX, and HTML storage
Enhanced content security options in the report preview
*Patent: System for printing security electronic documents and method therefore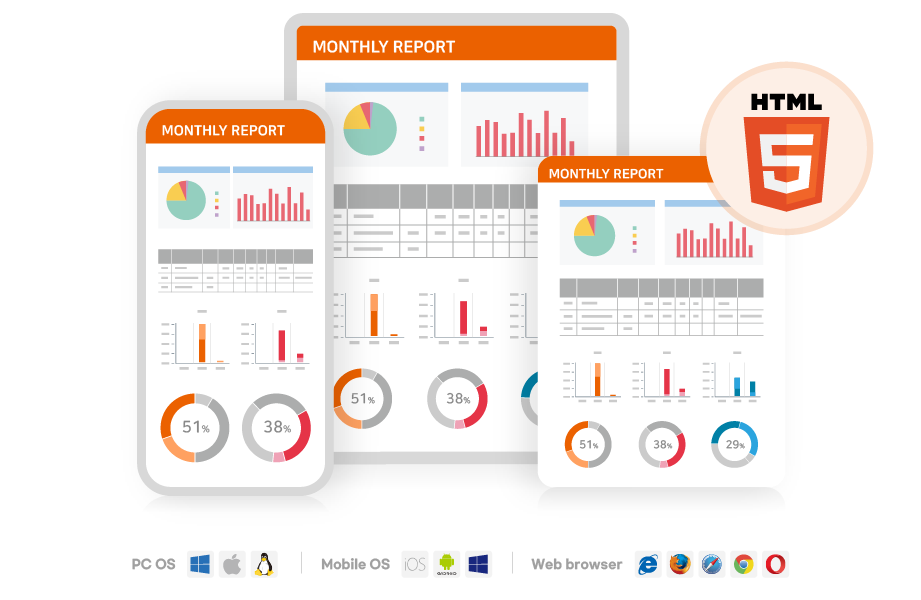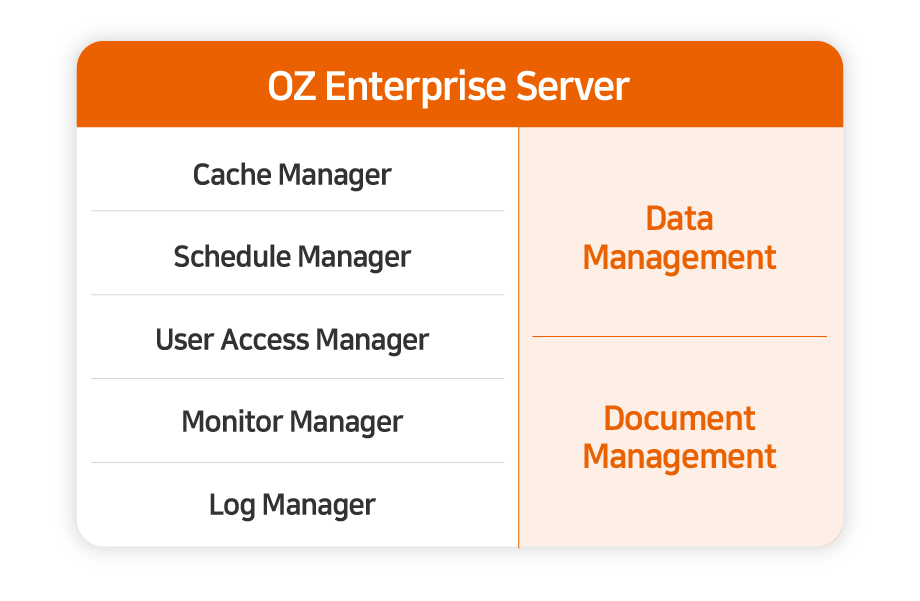 Report Management System
Reliable server for large data processing
Data streaming, intelligent disk/memory caching, data compression to minimize network load, etc
Centralized Operation and Management of Servers
Real-time modification and monitoring of the server's various setting
Scheduler server for automated reporting system
Automatic report generation through scheduling, printing, mailing, and exporting to various formats
Pre-check scheduler operation for quick exception/failure handling
Parallel server support for bulk processing
Development Tools
Design Reports

OZ Report Designer

Design Data Service

OZ Query Designer
Operational Tools
View & Print Reports

OZ Viewer

Data Processing Engine

OZ Enterprise Server

Create Periodic Report

OZ Scheduler Server
Management Tools
Set & Monitor Server

OZ Enterprise Manager

Manage User/Group Document

OZ Repository Manager