Embrace Efficiency and Growth: 5 Compelling Reasons to Switch to FORCS e-Form Solution
As the World Health Organization (WHO) declares that COVID-19 is no longer an international public health emergency, there is a glimmer of hope that the pandemic is transitioning toward an endemic phase. In this new era, organizations seek innovative solutions to adapt, thrive, and enhance customer experiences. FORCS OZ e-Form has emerged as a powerful tool, revolutionizing efficiency and productivity in the BFSI industries. Join us as we explore the top 5 reasons why switching to FORCS e-Form Solution is your path to a more resilient and prosperous future.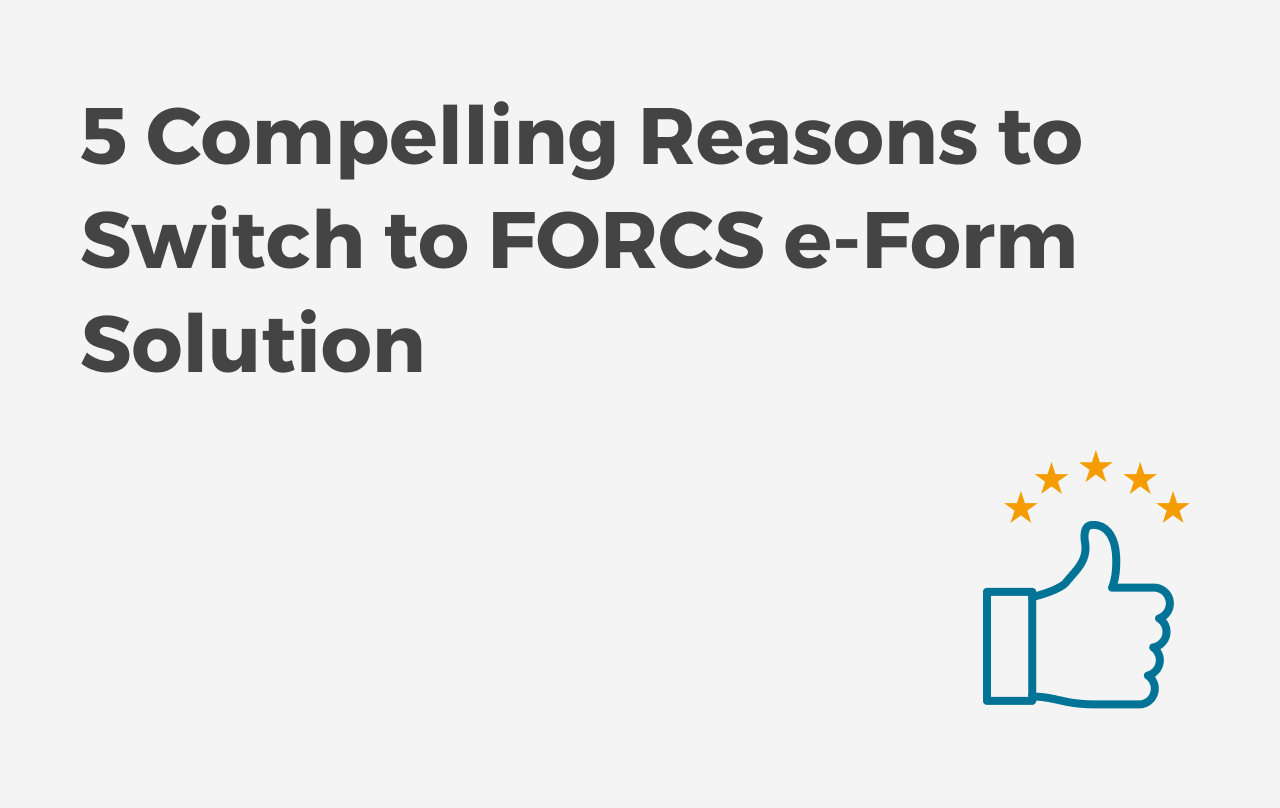 1. Dynamic Fillable Form for Effortless Interaction
Say goodbye to time-consuming manual form filling. Our OZ e-Form dynamically adapts based on user input and form selection, displaying only relevant sections. Whether processing a new account application or an existing customer transaction, users are presented with tailored form-filling sections, eliminating unnecessary clutter and simplifying the process.
2. Easy and Intuitive Form Design
Avoid the hassle of manual form updates. Our OZ e-Form boasts an intuitive designer application, enabling effortless form creation or modification, even for non-coders. With the "Master Sections" feature, updating a section once automatically reflects the changes across all relevant forms, saving time and effort.
3. Lightning-Fast Performance with XML Technology
Experience top-notch performance with OZ e-Form's XML-based technology. Smaller file sizes lead to quicker form loading, providing superior responsiveness to your customers. We received praise from a financial industry customer for their fast form binding and responses. A 9-page OZ e-Form only takes 2.7 seconds to load, compared to a 21.6-second load time for a PDF. Customers can store data in XML and produce PDF/A forms for optimal results.
4. Seamless Integration with Open API
FORCS e-Form Solution easily integrates with any business system, database, cloud, or on-premise environment. Our e-Form solution for enterprises is highly flexible and can be customized to meet the specific needs of our customers. The best part is that it doesn't require the complete migration of existing infrastructure to move towards a paperless environment. Scale your operations and streamline processes without limitations.
5. Cross-Platform Compatibility and Data Security
FORCS e-Form Solution ensures universal accessibility across devices and operating systems. Available offline with data syncing capabilities, our solution guarantees data encryption to safeguard against data breaches. Embrace a paperless future while boosting your sales revenue, just like one of our banking customers who experienced a remarkable 36% increase.
Unlock your organization's true potential with FORCS e-Form Solution. Say hello to efficiency, seamless integration, and enhanced customer experiences. Switch to FORCS today and embrace the future of e-Forms for unrivaled growth and success.