Expanding FORCS Presence in Vietnam with Unit Corp
Vietnam is popular for its coffee and it is an important part of the Vietnamese culture. The unique strong flavor is achieved using the dripped technique where it is left to drip directly into a cup with a traditional filter. The growth of the coffee industry is blooming just like its technology scene. Smartphone adoption rate is rising rapidly in Vietnam, with 40% of the population to own a smart device by 2021. This paves the way for new technological players who are providing mobile services.
Financial institutions worldwide are innovating digital channels for customers to perform financial services anytime and anywhere. Vietnam is seeing the digital wave as consumers are adopting ePayment and digital wallets. FinTech companies are creating mobile apps for consumers to perform financial services and other transactions all under one platform.
Established in 2010, Unit Corp is one of the key providers of financial software and business management solutions in Vietnam and other foreign markets. They have served major financial institutions such as the Saigon Commercial Bank, MUFG, UOB, and others. Unit's solutions and services are highly recognized in the Banking and Finance, Insurance and Enterprise sectors. They believe in delivering technologies and services that exceed customer expectations.
"Southeast Asia's technology industry has grown substantially in the past few years. We have identified and engaged key technology partners in distributing our dynamic eForm solutions. Efforts have been made in customizing our sales demo and training for our partners to showcase our impressive paperless technologies. We welcome Unit onboard and look forward to reaching more financial institutions in Vietnam," said Mickey Park, Vice-President of Global Sales, FORCS.
FORCS is a software company providing enterprise eForm and Reporting solutions. Established in 1995, over 4,000 customers have implemented our paperless technologies and benefitted from it. Visit the product tab to learn more about our solutions.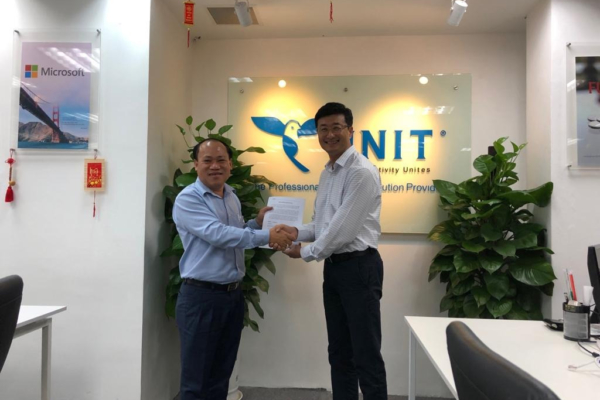 Mr. Le Hoang Son – Chairman & CEO of Unit Corp (Left), Mickey Park – Vice-President of FORCS (Right)