FORCS and Megazone Cloud: Pioneering Cloud-Based Electronic Contract Solutions Together
On August 22nd, FORCS, a top provider of electronic document and contract solutions, partnered with Megazone Cloud, a trailblazer in the cloud industry, to bring a new and exciting collaboration in cloud-based electronic contract solutions. The two companies signed a 'strategic business partnership agreement for cloud-based electronic contract solutions.'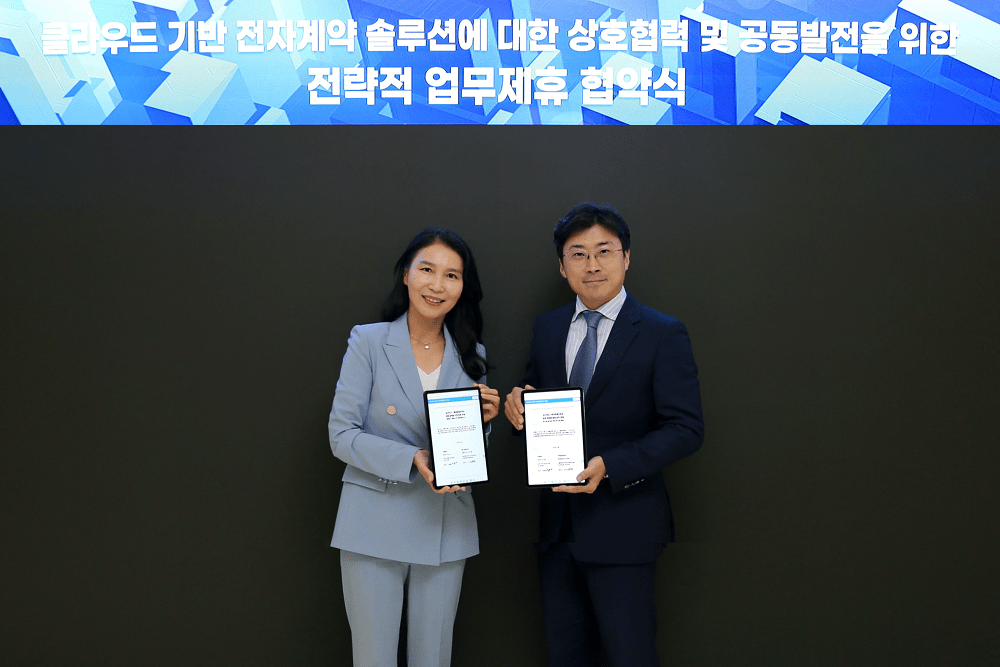 FORCS and Megazone Cloud's MOU Signing
This partnership is groundbreaking as FORCS and Megazone Cloud aim to combine their strengths in solutions and technologies to improve collaboration in local and international business endeavors. Their main objective is to enhance market competitiveness by conducting joint sales and marketing activities to cater to customers from both organizations.
As a strategic partnership, FORCS aims to broaden the reach of its cloud-based electronic contract solution, which utilizes advanced electronic document engine technology. This expansion will serve not only large corporations but also financial institutions. The overall goal is to expand their impact on the worldwide business environment.
Megazone Cloud, on the other hand, plans to integrate FORCS' electronic contract solution, "eformsign," into its startup support programs in Japan. The two companies will also work together to promote joint sales to clients and partners in Japan, solidifying their position in the Japanese market.
The CEO of FORCS, Park Mi-Kyung, expressed her excitement for their partnership with Megazone Cloud, a renowned company for its exceptional cloud technology. This collaboration enables them to provide cloud-optimized electronic contract solutions to various industries and businesses locally and internationally. They see great potential in the Japanese market, which is undergoing a significant digital transformation. Their cloud-based electronic document and contract solutions will considerably enhance business competitiveness.
The CEO of Megazone Cloud, Lee Joo-wan, emphasized the importance of partnering with FORCS, a leading company in the domestic industry of electronic documents. This technology is crucial in the current digital transformation landscape, and by working together, they aim to expand their enterprise customer base. Additionally, they plan to increase collaboration in overseas markets, utilizing Megazone Cloud's extensive global network.
For the first time in the electronic contract service industry, eformsign by FORCS has achieved the 'SaaS Standard Grade' for cloud service security certification (CSAP). Due to its innovation and public value, the government has designated it an 'excellent R&D innovative product.' Also, eformsign has been verified for its service stability, security, and operational excellence and attained the 'AWS-certified software' badge.
FORCS provides cloud services to small and medium-sized enterprises (SMEs) through eformsign. The service offers flexible subscription options, including a pay-as-you-go plan. FORCS also provides on-premise solutions to large enterprises and public institutions, catering to diverse business environments. eformsign is known for its dependable service and cutting-edge technology in various industries. It serves SMEs and prominent Korean corporations, such as Hyundai Motor, SK Telecom, LG Chem, and GS Caltex.
Megazone Cloud and its subsidiaries have a team of more than 2,700 cloud experts. They have achieved the coveted status of being Korea's first unicorn company in the cloud Managed Service Provider (MSP) industry. In 2022, they generated nearly KRW 1.4 trillion in revenue, a remarkable accomplishment. They have local subsidiaries in eight countries, including the US, Japan, Canada, Australia, China (Shanghai and Beijing), Vietnam, Hong Kong, and Singapore, beyond Korea.
Stay tuned for updates on FORCS and Megazone Cloud's partnership in revolutionizing cloud-based electronic contract solutions.
To fully explore eformsign's capabilities and features, visit the official website by clicking here.