FORCS Expands Enterprise e-Form and Reporting to Europe
FORCS signs a new partnership agreement with leading system integrator, Algotech, to expand our brand and solutions to Europe. Algotech specializes in designing and implementing integrated communication systems. Established in 1995, they have successfully implemented innovative IT solutions for their customers in Serbia, Hungary, Czech Republic, Slovakia, Poland, Romania, Bosnia and Herzegovina, Montenegro, Croatia, and Slovenia.
Algotech has worked with world's renowned companies namely Avaya, Cisco, Nice, Altitude, Teleopti, Microsoft, eGain, and more. They have cultivated a huge team of IT experts in delivering high-quality solutions and services to their customers. With Algotech foresight in anticipating market trends, FORCS believes this new partnership will break new grounds in the European market.
Europe's future is digital. The government is launching a European platform combining national initiatives to help European businesses to digitize, adapt, and innovate. With this new partnership, FORCS and Algotech aim to drive digital transformation in the European region.
Mickey Park, Vice President of Global Sales, FORCS, said, "'It's a great opportunity that FORCS expands to Eastern Europe Region after establishing our base in the Asia Pacific region over the past 2 years. I am confident that the partnership with Algotech would bring an awesome foundation and business potentials, penetrating into Finance, Insurance, Banking, and Asset Management industries in Eastern European countries. We are excited to see enterprises in Eastern Europe turning to a paperless environment, keeping up with the global FinTech trends."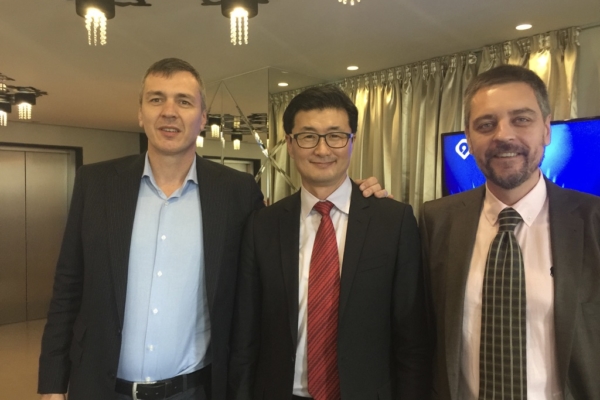 Mickey Park (middle) with Algotech Presidents Aleksandar Bakoc (left) and Goran Sehovic (right)