FORCS Recognized with Minister's Award for eformsign's Excellence in Public Sector Software
FORCS, a leading electronic document and contract solutions provider, has proudly announced that their electronic contract service, eformsign, received the Minister of Science and ICT Award, the highest accolade at the 3rd Public Sector Software (SW) Awards. This recognition highlights eformsign's exceptional contributions to the public sector's digital transformation.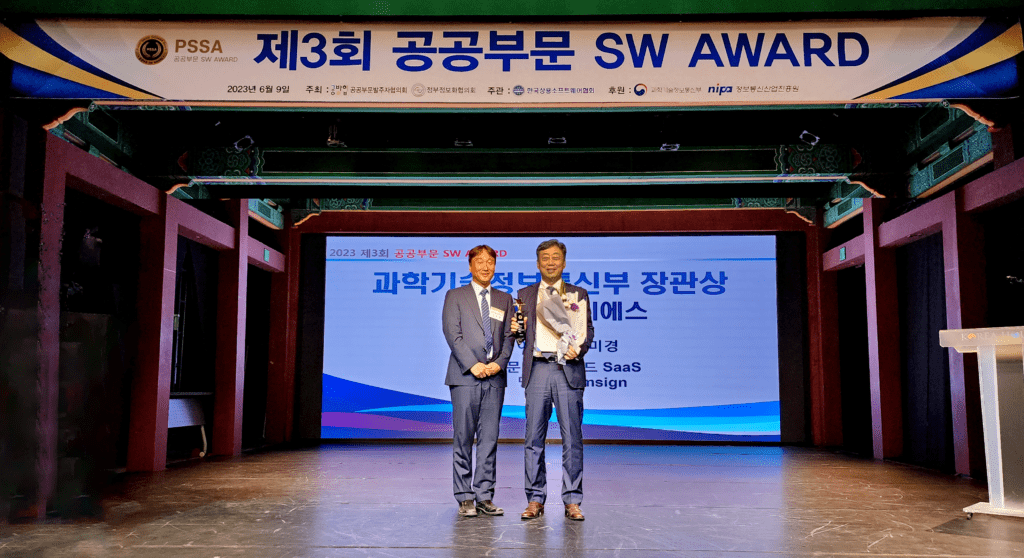 FORCS: Leading Public Sector Software Excellence
The "Public Sector SW Awards" recognizes outstanding and versatile commercial software that significantly contributes to public sector digital projects. This event allows public organizations to directly identify, select, and award exceptional commercial software, promoting digital transformation within the public sector. The event showcases successful case studies of awarded products to promote informatization projects in public organizations.
This year's awards have been expanded to encompass cloud Software as a Service (SaaS) products that facilitate adopting cloud solutions in the public sector. FORCS' eformsign stood out and received the Minister's Award for its pivotal role in developing and advancing the public cloud market through its innovative platform.
FORCS achieved the 'SaaS Standard Grade' for cloud service security certification (CSAP), setting a milestone as the first in the electronic contract service industry to meet security standards, stability, and reliability in cloud services. The Korea Institute of Science and Technology (KIST) has already adopted the CSAP eformsign, with more institutions expected to follow suit.
In the preceding year, eformsign was recognized for its innovation and public value, designated as an "Excellent R&D Innovative Product" by the government. This designation spans three years, during which the government and local authorities can privately contract the product for public procurement. Additionally, innovative products promoted at the pan-ministerial level are eligible for pilot purchase projects.
With eformsign, public institutions can efficiently employ electronic documents and signatures for all internal processes requiring signatures or seals without security concerns. This eliminates the need for time-consuming and costly paperwork and helps avoid issues such as document misplacement or damage.
Various organizations and associations are currently utilizing eformsign, including the Korea Foundation for the Advancement of Science and Creativity, the National Institute of Korean Language, the Korea Tourism Organization, Hwaseong City Hall, the Korea National Oil Corporation, the Korea Environment Corporation, the KOSDAQ Listed Companies Association, and the Korea Software Industry Association. Moreover, eformsign's stability and technological expertise are recognized by schools, hospitals, small and medium-sized enterprises, and even renowned conglomerates like Hyundai, SK Telecom, LG Chem, and GS Caltex across all business sectors.
According to Heesang Lee, the CEO of FORCS, it is significant to be acknowledged for their contributions to the public cloud market through an award that public procurers selected. FORCS is committed to advancing electronic document technology through continuous research and development. They will focus on driving the progress of the public SW industry and activating cloud SaaS, primarily through their product, eformsign.
Distinguished by its Smart e-Form Engine foundation, eformsign continues to push the envelope by consistently researching and integrating cutting-edge digital technologies such as voice and handwriting recognition, chatbots, and AI reading comprehension. This inclusive approach ensures accessibility for all users, simplifying the creation of electronic documents.
In addition, eformsign provides a range of options to meet various operational requirements. It offers monthly subscription-based or document-based charging models for cloud services (SaaS) that are ideal for small and medium-sized businesses and institutions. At the same time, it caters to larger companies and public institutions through its installation-based (On-Premise) approach, which can be tailored to fit different business environments and needs.
To fully explore eformsign's capabilities and features, visit the official website by clicking here.