FORCS Signs Partnership Agreement with SK Telecom!
Exploring New Possibilities of a Paperless Business Environment
Two giants from the telecommunications and technology industries namely, SK Telecom and FORCS have come together to sign a business partnership to explore new possibilities of a paperless business environment; the most exciting collaboration which was published by over 30 news outlets in Korea.
SK Telecom is Korea's largest telecommunications company with more than 29 million mobile subscribers, which accounts for near to 50% of the total market share. Established in March 1984, SK Telecom led the development of the global mobile Telecommunications industry by launching 2G, 3G, and 4G network. Armed with competitiveness in mobile connectivity, SK Telecom is actively developing powerful platforms aimed at delivering optimal value to customers and sustaining growth in the rapidly changing business environment.
The two companies will develop new products and services that combine SK Telecom smart device and communication services with FORCS OZ e-Form. We aim to identify new business opportunities through joint Marketing and Sales effort, and collaborate on building cloud-based electronic document infrastructure nationwide.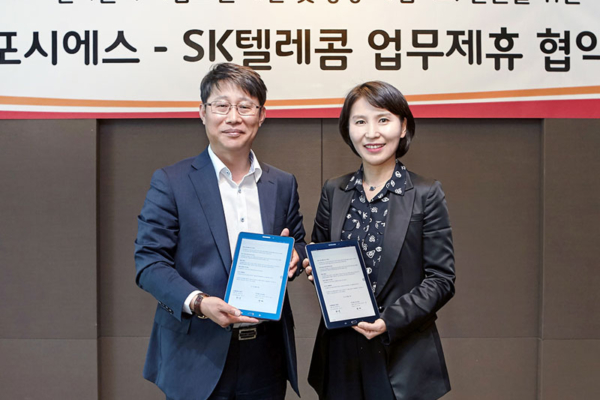 Park Jeong Ho (Left), CEO of SK Telecom & Park Mi Kyung (Right), CEO of FORCS
Press Releases
MK – http://news.mk.co.kr/newsRead.php?&year=2017&no=288630
Yonhap News – http://www.yonhapnews.co.kr/bulletin/2017/04/28/0200000000AKR20170428062600017.HTML?input=1195m
Sedaily – http://www.sedaily.com/NewsView/1OETMBFJ7T
Business News Daily – http://biz.newdaily.co.kr/news/article.html?no=10131445
MT – http://www.mt.co.kr/