FinTech Conference 2017 – The Digital Revolution
Over 120 professionals from the Financial industry turned up for our FinTech Conference 2017!
Last Friday, FinTech experts and guests from major financial institutions gathered at The Fullerton Hotel Singapore for our annual FinTech conference, The Digital Revolution in Financial Services. It was a great success for this much-anticipated event of the year as the queue for registration starts to form at around 11:45am. This is just the second year we have organized a FinTech conference, and we have received an overwhelming response as many professionals from the financial industry have signed up.
We welcomed guests at the registration counter with a digital greeting system; this relates to customer's experience of visiting a bank. Rather than the conventional paper badges, we decided that our digital greeting card is the best way to speed up the entire registration process. Guests just need to key in their name or email address and a personalized digital greeting card would be sent with their photo (taken using the camera feature) to their email with the conference agenda.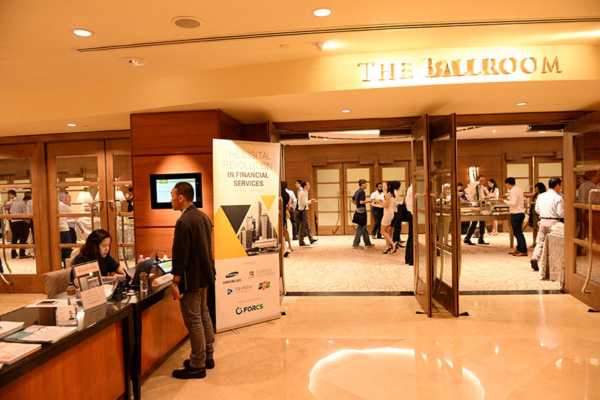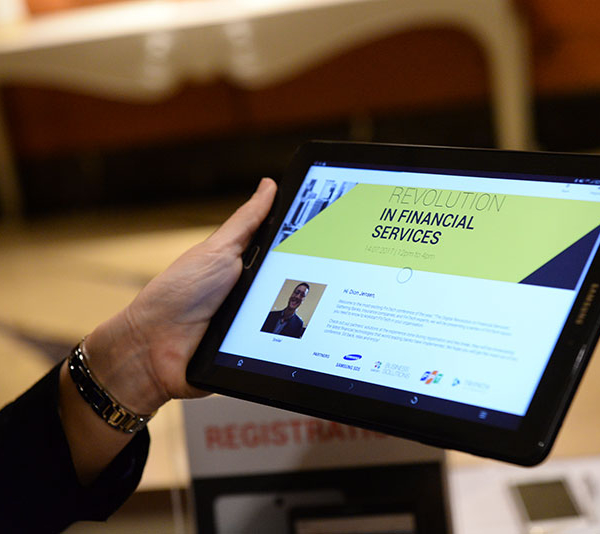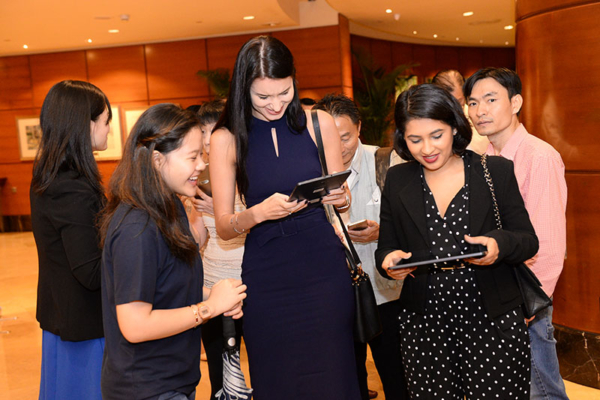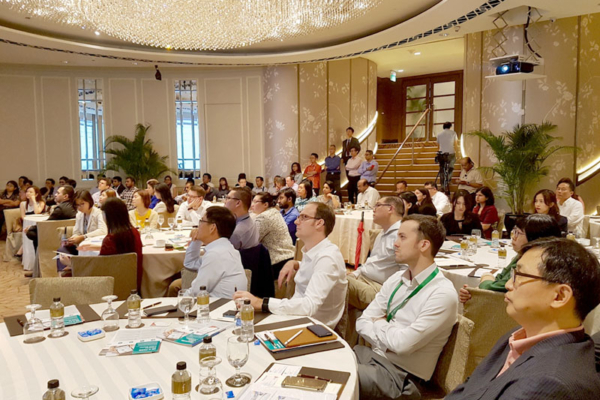 Lunch was served in the foyer, while guests were having lunch, they get to see the newest digital banking technologies our partners are offering.
Samsung SDS showcased Nexsign, a PKI –based authentication solution using biometrics and secure storage to enable easy and secure user authentication on smart devices. Looking at the technological threats we are exposed to daily, this is especially crucial for financial institutions.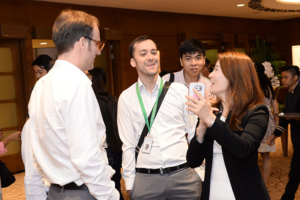 Wacom displayed their business solutions devices such as the signature pads, pen displays, and mobile signature solution; enhancing digital banking processes and improving the effectiveness of visual communications.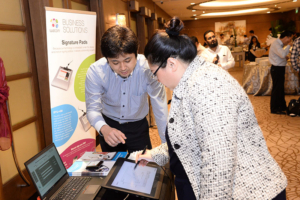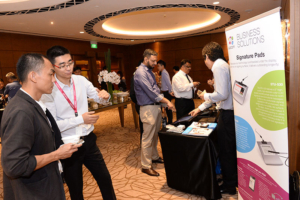 Tripath, an innovative start-up in Korea, showcased their mirroring solution from desktop to tablet and vice versa. The amazing thing is, mirroring can be performed even if the provider and customers are miles apart.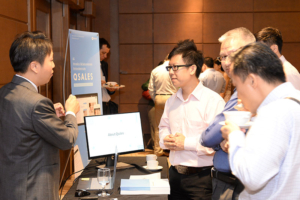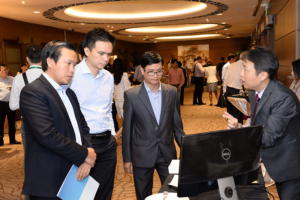 The conference started with the opening and welcome speech delivered by Mr Mickey Park, Vice President of Global Sales, FORCS. Mr Mickey Park gave an introduction of FORCS, followed by the session "The Digital Revolution in Financial Technologies". Alongside with Mr Collin Koh, Channel Sales Manager of FORCS, they demonstrated the technologies behind building the Tablet Branch Banking System. The Tablet Branch Banking System enables financial institutions to extend their financial services greatly, allowing sales personnel to reach out to customers by going to their workplace or home at their convenience.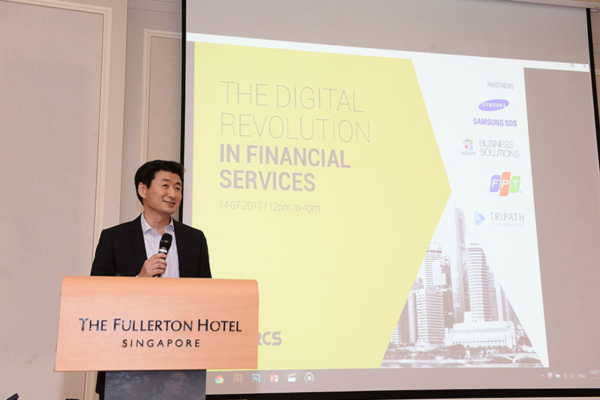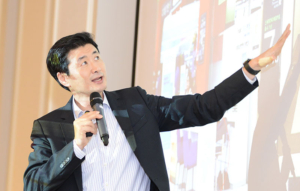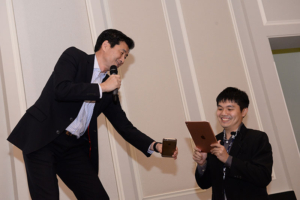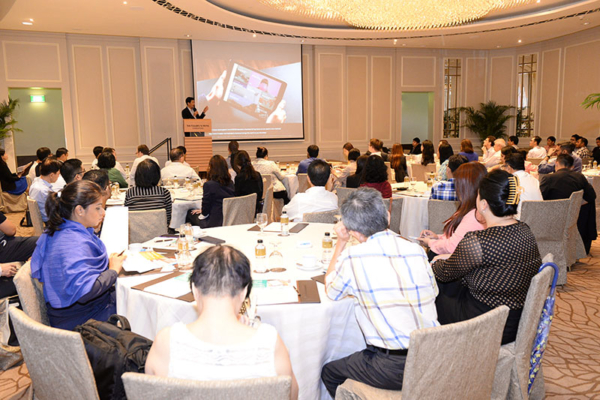 Next, Miss Jin Lee, Sales Director of Samsung SDS, shared with guests an overview of issues financial institutions are facing currently. The findings reveal that financial institutions are facing pressure to reduce fraud risk, thus they need solutions to enhance security and improve convenience. With the integration of Nexsign into mobile banking services, customers can register biometric information on their bank-issued devices and perform transactions securely, all without having to visit a branch. Biometric identification could be by thumbprint, iris, or voice recognition.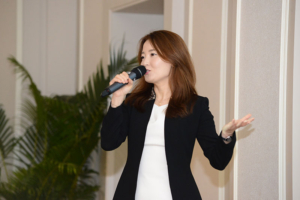 Mr Anmol Singh, Principal Research Analyst at Gartner, shared with our guests on the top trends and emerging threats faced by financial institutions in 2017. We learned that financial fraud detection is failing as 60% of the users reuse passwords across multiple sites, and 90% of the sites with login pages experienced bot attacks in 2016. The solution would be to build trust through authentication, identity proofing, strengthen fraud detection, and behavioral analytics.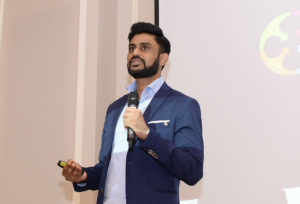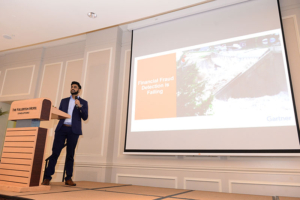 After the tea break, Mr Lee Haesoo, Deputy Department Manager of Busan Bank shared his experience of digitizing conventional financial services in Korea. Busan Bank is one of the leading banks in Korea, providing personal and corporate banking services to customers domestically and internationally. Mr Lee shared on the changes in transforming banking channels in Busan Bank, distinguished by "face-to-face" and "non-face-to-face". Banking processes were improved at the teller counter, a "face-to-face" channel; paper forms were converted to digital ones to speed up the process of serving customers. As for the "non-face-to-face" channel, Busan Bank upgraded banking channels such as internet and mobile banking by increasing the number of "Smart ATM". Biometric technologies are also implemented to ensure a safe and secure digital banking experience for all customers
.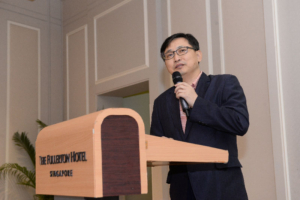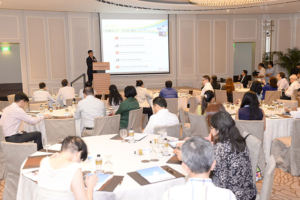 Lastly, Mr Hung Tran, Vice Director of Financial Services Group of FPT Software shared how they have implemented FinTech successfully for their customers. Mr Hung Tran presented the entire concept of how a FinTech project will take place upon receiving a request from a customer. He presented 6 common cases they have implemented for financial institutions such as the Digital Advisor PoC(Chatbot), Digital Mortgage on Mobile, Stock Trend Prediction, Customer Intimacy 360 Dashboard, Blockchain Poc, and Facial Recognition for Insurance Agents.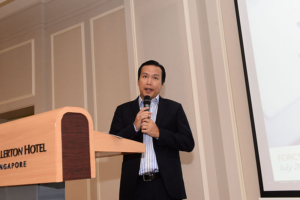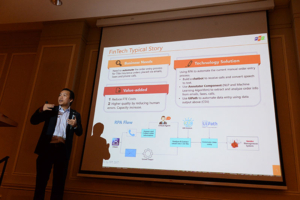 We ended the conference with the lucky draw. Mr Mike Choi, Sales Director of Samsung SDS was invited on stage to pick a lucky winner for the sponsored Samsung Galaxy Tab S3. The conference ended on a high note with all aspects of the implementation of digital financial services covered. We sincerely thank all guests who have joined us. If you have missed our conference, we have arranged for a webinar this coming Wednesday, 26 July 2017 from 11am to 12pm.