FORCS FinTech Conference 2018 – Reshaping Financial Services
Reshaping Financial Services ended on a high note at The Fullerton Hotel on 6 September 2018. Hundreds of FinTech professionals turned up for the insightful and fruitful conference. FinTech experts shared case studies of how major banks and insurance companies adopted paperless banking to deliver a better customer experience.
Mickey Park, Vice President of Global Sales, FORCS delivered the opening speech. He began by welcoming guests who took their time off their busy schedule to attend our annual FinTech conference. And thanked our sponsor Korea Software Industry Association and partners LG CNS, Toppan Forms, Korea Digital Content Association, Raonsecure, Wacom Business Solutions, Tuple Technologies, Microblink and Innov8tif for being a part of our conference.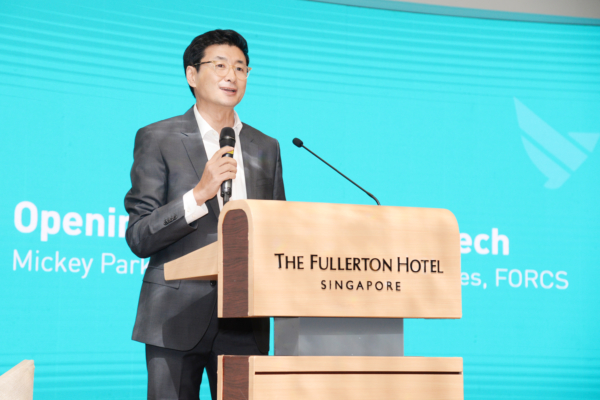 Mickey Park, Vice-President of Global Sales, FORCS
After the opening speech, Founder and CEO of FORCS, Miss Park went on stage to share with the guests on leading eForm technology to enhance financial services. She went on to share the journey of developing FORCS paperless enterprise solutions and the roadmap to eForm innovation.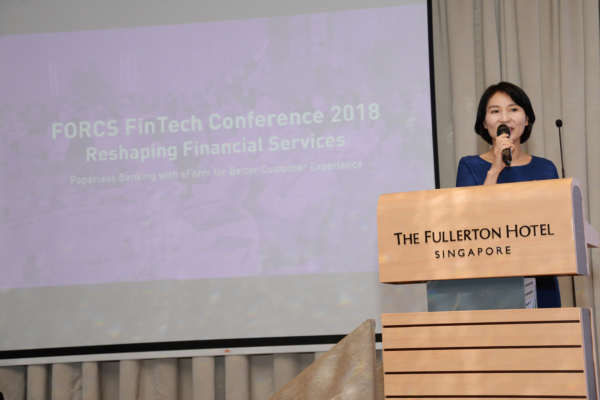 Park Mi Kyung, Founder and CEO of FORCS
Thereafter, Collin, Channel Sales Manager of FORCS demonstrated FORCS very own enterprise paperless solutions, the Tablet Onboarding System, Paperless Branch System and Real-time eForm. Major banks and insurance companies worldwide have benefitted from implementing our solutions to their existing financial services.
Collin Koh, Channel Sales Manager of FORCS
It's an honour to have Mr Jang, Senior Advisor of the Korea Digital Content Association with us at our FinTech conference. He has worked in KEB Hana Bank previously, one of the largest banks in Korea. He shared his experience of assisting Korean financial institutions transformed digitally and presented the trends and challenges of going paperless in the financial industry.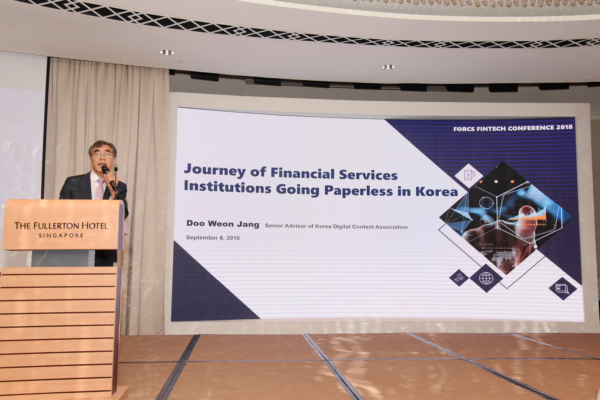 Jang Doo Weon, Senior Advisor of Korea Digital Content Association
During the tea break, guests get the chance to visit our partners' booth in the foyer and talk to industry leaders about adopting paperless technologies. After the tea break, Joe – Business Development Manager of Toppan Forms – shared the advantages and challenges of transforming into a paperless working environment and the strategies financial institutions implemented to shift from paper to digital. Many financial institutions have explored with Toppan Forms on how to reduce the cost of postage and paper statements, and yet enhance a pleasant customer experience during the delivery of financial services.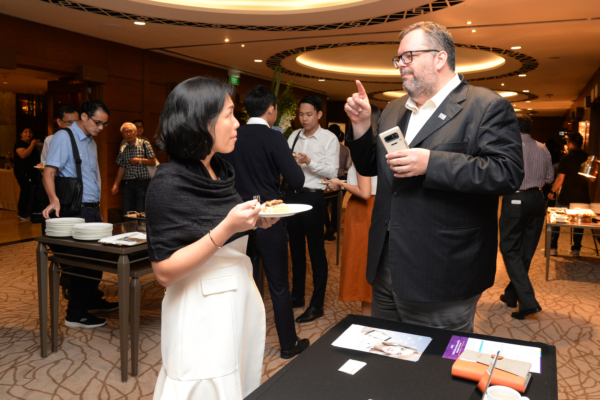 At around 3:20pm, Mr Cho, Manager of Public Division from LG CNS shared with guests on the strategic technological solutions they offer to financial institutions and the journey of implementing digitalization. Since 1987, LG CNS has been providing strategic IT solutions globally and introduced future-forward platforms to customers worldwide.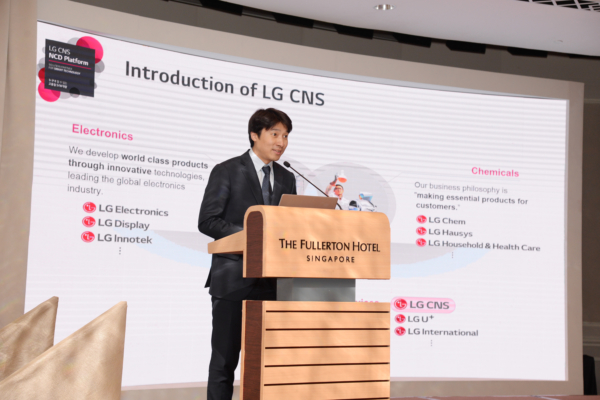 Cho Sung Mook, Manager of Public Division, LG CNS
To offer a one-stop solution for businesses to transform digitally, we invited Jason, Director of Strategic Alliances from Raonsecure to share about biometrics. Biometrics have been broadly adopted by financial institutions worldwide, but not many people are aware of the differences of the different biometric authentication solutions. Jason shared the advantages of FIDO authentication over basic biometric deployments and the future of authentication.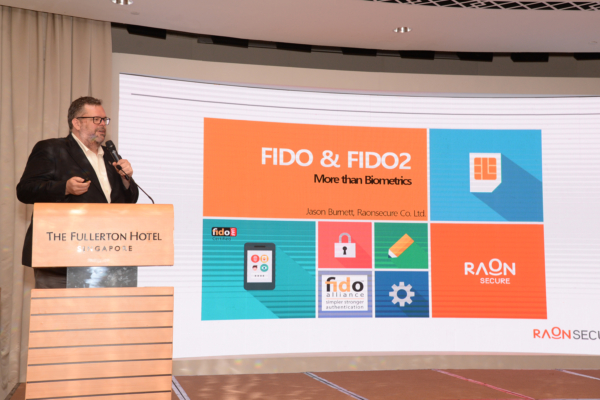 Jason Burnett, Director of Strategic Alliances, Raonsecure
The conference ended with a Q&A session with guests raising their concerns in implementing paperless technologies and our speakers addressed their concerns with real life case studies. We sincerely thank all guests, sponsor and partners for being a part of our conference. And if you missed it, contact us and we will be more than happy to share our impressive paperless technologies with you.