Singapore FinTech Festival 2018 Was An Eye Opener
The festival attracted near to 45,000 participants from 130 counties, it proves to be the biggest FinTech event worldwide and a global platform for the FinTech community to connect, collaborate and co-create. Exhibitors from more than 400 companies representing 35 countries across industries exhibited their solutions.
As promised last year, we were back to the Singapore FinTech Festival this year. The 3-day conference and exhibition at the Singapore Expo was eye-opening and we showcased our Digital Onboarding and Paperless Branch Systems. Themed "Revolutionize Financial Services with Dynamic eForm", FORCS shared with visitors how they can convert paper form to electronic form conveniently with OZ e-Form. Visitors' responses were overwhelming as they were amazed at our paperless solution where they don't see it anywhere. It struck them as they discovered our solution that will reduce much paper work and increase productivity at their workplace.
Day 1

Sqib Shaikh, Software Engineer of Microsoft opened the festival with an inspiring session of how technology can improve people's lives. Ravi Menon, Managing Director of MAS then followed up with the development of a FinTech ecosystem in Singapore. He stressed the key pillars to build this ecosystem includes people, identity, payments, data governance, applied research and platforms for innovation.
More than 20 finalist teams presented their pitches for the Global FinTech Hackcelerator and 3 winners were awarded. At the Prudential stage, the panel discussed how millennials and SMEs hold huge potential for economic growth and that the future lies in taking an omni-channel, mobile-first and all-inclusive approach. Changes in payments oversight and regulation was addressed at the Deloitte Stage and the panel at the AMD Stage debated how FinTech pioneers should stay relevant amidst challenges from both "FinTechs" and "Traditional Financial Institutions".
Day 2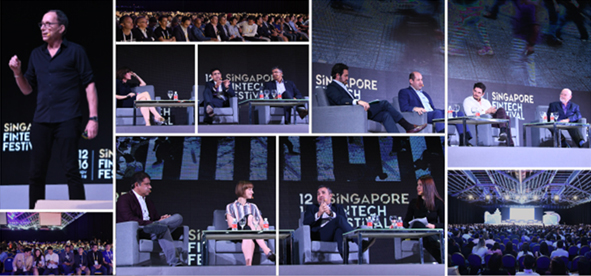 Chris Colbert of Harvard Innovation Labs opened the second day session with the topic "How Technology is Dead". He highlighted that the key to being successful in innovating is having an in-depth understanding of our customers. The "AI in Finance Summit" kicked off with a panel discussion on the Future of AI. The Global Investor Summit brought together the investment and enterprise communities to showcase the best of next generation ASEAN start-up and growth enterprises across all sectors.
Day 3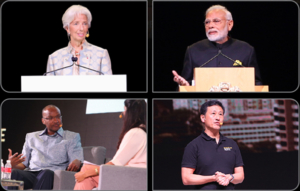 The FinTech conference ended with a bang, we hear from international and local dignitaries, including Narendra Modi, Prime Minister of India, Christine Lagarde, Managing Director of the International Monetary Fund, and Ong Ye Kung, Minister for Education of Singapore and Board Member of the Monetary Authority of Singapore (MAS). PM Modi and Tharman Shanmugaratnam, Deputy Prime Minster of Singapore and Chairman of MAS, jointly launched the API Exchange (APIX), an online global FinTech marketplace and sandbox platform from financial institutions.
The conference concluded with the last panel exploring Technology and Society – Life Beyond Finance where the topic revolved around building next level technology to improve the lives of people worldwide.
References:
Singapore FinTech Festival 2018 Newsletter